CAS Senior is Running for New York City Council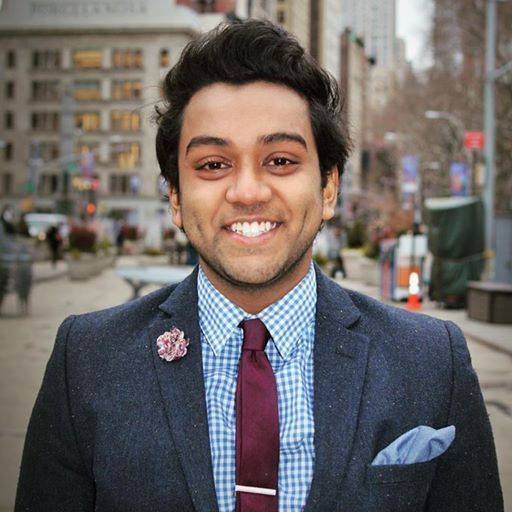 Age is just a number for Chetan Hebbur — a CAS senior running for City Council in New York City's Second District — who could potentially be the council's youngest member.
With the support of two other NYU students — one serving as his campaign manager and the other focussing on community outreach programs — Hebbur is looking to fill the seat of incumbent Rosie Mendez by running in the Democratic primary this September. The second district — which leans heavily Democrat — includes the East Village, Gramercy Park, Kips Bay, the Lower East Side, Murray Hill, Rose Hill and several NYU dorms.
Washington Square News spoke with Hebbur about his campaign goals and why he decided to run for City Council.
Washington Square News: Why are you running for City Council?
Chetan Hebbur: I think that the platform I'm running is something that spans further than party issues. It's a better lens to how we should approach policy. It's more educational than anything else. I realized that a lot of my friends were frustrated when Hillary [Clinton] lost, or when Donald Trump appointed someone they didn't like they would get depressed and turn to protesting. I pretty much did the same. I had all this misplaced ambition that I didn't know how to channel. People were making life changes and I felt kind of selfish for not doing anything. I realized in the end that people need to change how they approach elections and politics in general. If you're intent on having a better political system you need to do it from the roots up.
WSN:  What is your platform for this campaign?
Hebbur: The current District Two administration hasn't given a lot of thought to what District Two wants. I think the issue is we're not doing enough research into our constituency — that's why I'm taking longer to develop a District Two platform. I'm working with an ex-consultant who used to work at a political firm and we were talking about how to properly poll the district and find out accurate info about what people want. I think that, inevitably, is what the platform will look like. It's all going to come down to whether changes are feasible within the budget and whether we can accomplish a progressive agenda in a way that doesn't mess up other goals for New York.
WSN: How far into your campaign are you? And when is the election?
Hebbur: The primaries are in September and the general election is in November. If you're familiar with most of Manhattan, the primaries are really the ones that matter. We don't have a lot of time and we are very early in the campaign. A lot of this is figuring out how I can make the biggest difference, so we're working our asses off to do the work we need to do to be prepared against these other politicians. I'm really looking forward to talking to people and my opponents to see what page they're on, because maybe they'll be able to take my ideas and do it better than me — that would be amazing. But right now it just seems that all of these people are well-intentioned and they just don't know how to execute these actions properly. I have a meeting with our current councilwoman, Mendez, on [March] 27 just to talk to her about what district issues she finds most important, and how her last 12 years in office have changed the district and what she thinks is left to change. Obviously I am committed to finding out what these issues are that people believe in, but I am also committed to finding out what you guys think are the issues, as well as finding out what people who have been ignored believe.
WSN: Do you expect to win?
Hebbur: I really have no idea. I think my chances of winning are going to be greatly dependent on whether NYU comes up and decides that they want a voice in this election, but if I could just say one thing it would be register to vote, do the research of all your candidates, find out what they support and see who is going to make the most difference for the world. If that's not me, that's OK, but I really primarily want to force every candidate to get on the same page of transparency and commitment to policy and fact-based generation.
WSN: What do you hope to accomplish for NYU students?
Hebbur: NYU makes up a huge part of District Two, but our voices don't really get heard because our City Council is concerned with getting a small slice of a very small pie. In the end, I don't really really care about winning or losing, but if we could get 20,000 NYU kids to turn out and vote and set a record, that would be amazing for me.
Email Sayer Devlin at [email protected]