LS Continues Search for New Dean – With a Twist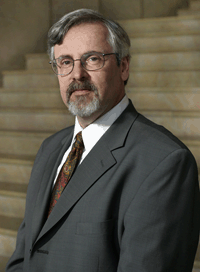 Only three candidates remain for the open Liberal Studies Dean position. The Liberal Studies Dean Search Committee has narrowed its search down to three prospective candidates after current Dean Fred Schwarzbach said in a September 2016 announcement that he would step down this summer. The search committee is testing a new selection process, which solicits advice from both LS faculty and students.
NYU spokesperson Matt Nagel said that Schwarzbach decided to step down to pursue his academic and research goals. Nagel said that since the announcement, NYU has been actively searching for Schwarzback's successor.
"There is a committee — headed by Michael Laver, the faculty of arts and science dean for social sciences — which interviews candidates and makes a recommendation to the dean of [faculty of arts and science], who then appoints the new dean," Nagel said. "As is the case with many searches of this nature, this is an internal process to protect the identity of those who wish to be considered for the position."
Nagel said that once Provost Katherine Fleming makes her final decision, the university will determine the appropriate time to notify the campus community.
Laver, who came up with the idea to experiment with the search process by seeking increased student input, thinks this is a more inclusive approach — particularly apt for LS, since the LS dean is particularly involved with the faculty. And Laver wants the new dean to be an intellectual leader.
"I'm a strong believer in inclusive decision making," Laver said. "It's important for the particular Liberal Studies position because that dean is the head of a school [and] of a large number of very committed faculty, and the opinion of that faculty about the appointment was very important. It was a very different type of decision-making process."
However, many LS students have said that they are unaware of the new search process. LS freshman Wes Chiang said he was unaware of the change in LS leadership.
"The university is doing little to nothing about promoting the LS dean and the LS curriculum," Chiang said. "No one cares about LS enough nor do they take LS seriously since it's not a widely known school. We have our own versions of 'cohorts' but we never meet. We were never really given any information about this, and if we did, at least for me, I didn't care enough about it since LS itself isn't really involved in the school — and at least for Stern students, everyone I know knows about their deans."
Though the search committee is experimenting with a new process, Laver said students have not been active in voicing their opinions despite having ample opportunity to do so. The search committee has held two town halls where students could meet two of the prospective candidates, but only one student showed up to one of them. The other one had zero attendants.
"I haven't had any feedback from students," Laver said. "I'm very open to having students give me their opinions, and it's up to students take advantage of that."
Email Sayer Devlin at [email protected]