Saturday School: Tandon to Compensate for Snow Day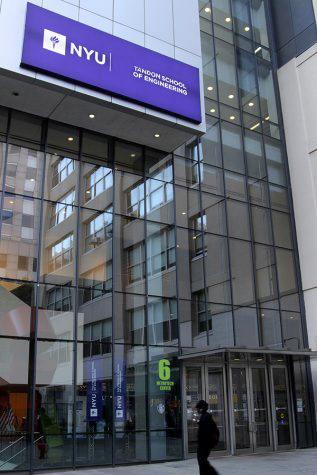 Tandon School of Engineering students received an email this afternoon informing them of an extra day of classes due to classes being cancelled earlier in February. No makeup date has been set for students at the Washington Square campus yet.
"The Tandon School of Engineering snow make-up day has been scheduled for Saturday, March 25," the email said. "Undergraduate and Graduate courses that were cancelled on Thursday, Feb. 9 due to inclement weather, have been rescheduled for Saturday, March 25. These make-up classes may not follow the same schedule as the regular class meetings in the regularly scheduled room at the regular time."
The email also advised students to check both the School of Engineering Spring 2017 Make-Up Day Schedule and with their professors about other arrangements.
Tandon Director of Marketing and Communications Kathleen Hamilton said that NYU does not mandate makeup days for the entire university. She said each school can decide whether its students need the extra time to catch up in their courses.
"The academic team here polled the departments, and there were quite a few that the material is so rigorous in their classes that they just couldn't make it up by just adding a couple of minutes here and there along the way, so they scheduled this makeup day," Hamilton said. "Not all the professors are going to actually schedule classes during this time, but quite a number of time say they are going to need that time."
Hamilton also explained that NYU spokesperson John Beckman said the issue of makeup days is why the university is generally reluctant to close school in the event of snow storms — makeup days are not built into NYU's calendar.
Tandon freshman Sasha Chowdhury thinks students may not need the extra day and said that she feels as if nobody — professors included — is taking this seriously. Chowdhury said that many have already been speeding up material but thinks Tandon probably has an extra day compared to the Washington Square campus because the classes require more work.
"Well, it's not the first time we've got the butt end of the deal," Chowdhury said. "Our classes generally are harder and require more material to be covered in class. It's not like my econ class where I can catch up by just reading the textbook. I need an actual teacher for my calculus and physics [classes] to show me firsthand what to do."
Chowdhury also said that the Saturday classes are just like classes that meet any other day — they are not technically mandatory, and if students do not want to attend a certain class, they won't.
Tandon freshman Zehra Abacioglu said that she is unsure if she needs to make up for the snow day, because her professors either are not holding an extra class or had already planned for a snow day. Therefore, Abacioglu said she does not believe it is necessary for Tandon to make up the classes on a Saturday.
"I'm actually surprised that only Tandon is making their students make up for the snow day, which I find absurd," Abacioglu said. "I think that if there's going to be a makeup day it should be implemented throughout NYU and not just Tandon. If the other schools can make up for the lectures lost without an extra Saturday, so can Tandon."
Additional reporting by Sayer Devlin. Email Natasha Roy at [email protected].