Students Have Concerns About Tandon Physics Department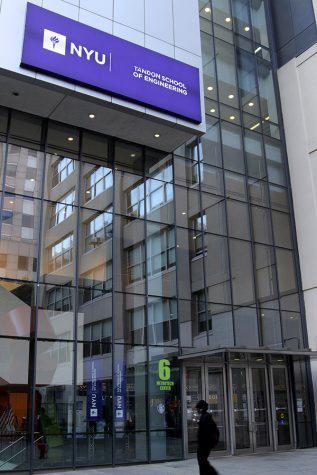 Htoo Min, Deputy News Editor
Feb 27, 2017
Some Tandon School of Engineering students think there is a better place to study their chosen subject within NYU — the physics program in CAS.
Tandon senior Nathaniel Stemen said that the Brooklyn department is small and lacks faculty members, which means less space for physics students in Tandon. The department is currently sequestered in a corner of the third floor in Rogers Hall, Tandon's main academic building.
"There is almost no lab space, limiting the amount of research that can go on," Stemen said. "The department at CAS has a large physics lounge for its undergraduates, and the effect is an actual community of friends, rather than a group of people who take classes together."
He also lamented that the professors in Tandon do not teach many courses, so students oftentimes cannot learn from their favorite professors in more than one class, making it harder for students to make lasting connections with faculty. Additionally, Stemen does not believe that the professors modernize their syllabi or consider student input for updating their courses, even though they often teach the same classes for many years.
Assistant to the Director of Undergraduate Physics at CAS Bill LePage said he was not familiar with Tandon's physics program so could not speak for it. However, he said that the CAS physics department requested a curricular review from the Society of Physics Students to improve syllabi and incorporate student input.
"The Director of Undergraduate Studies and the Physics Advisor also hold town halls for our majors to present us with feedback and ways to improve the program," LePage said. "We try to get to know every major and so the community is tight knit; it's a fairly small department compared to some others at NYU. Our professors, graduate students and postdocs are friendly and willing to get to know you and help you out."
Tandon senior Joseph Nardone, the director of a superconductor lab, said that throughout his research and academic experiences on campus, his professors were fair in grading and easy to reach in and out of class.
"I received the grades I deserved," Nardone said. "Dr. Folan [Nardone's nuclear physics professor] takes academics seriously and has never hesitated to criticize my work, but this constructive criticism of my work has been integral to my career progress."
Update: Folan's quote was removed during the editing process while trying to fit it for print. The following passage should have been included at the end of the article and has now been amended. Please reference a Letter to the Editor by Folan for a letter he wrote us as well as the full, unedited version of the statement he sent our reporter:
Folan said that the department faculty's size and intellectual diversity are a testament to the variety of research and scholarship it produced. And this non-uniformity brings diversity to teaching methods, which simply means they employ different teaching techniques.
"All our lecture, recitation and lab instructors are Ph.D.-holding professional physicists," Folan said. "The applied physics department expects to thrive and flourish as the university investments in the campus and its faculty continue to bear fruit. We have recently hired a new full-time lecturer and plan to expand the faculty as demand and resources allow."
Retraction: The following paragraphs were removed from this article. The quote advocates for cheating, which Washington Square News does not condone. Additionally, due to an editing error, the commentary surrounding the quote was not given to Washington Square News by Co — who is an alumnus — and does not reflect his opinions.
Compared to the set-up of CAS, Tandon junior Earl Co, expressed similar sentiments to Stemen. Co does not believe the department prioritizes students, especially since labs — a main source for students to apply what they learn — are not utilized to their fullest potentials. He said that labs are often reduced to Microsoft Excel practice time, rather than actually trying to understand the material presented in the labs.
"[The] major problem is the time requirement to actually do the lab — three hours; analyze the data — one to three hours; and write the report — five to seven hours," Co said. "Even if you have access to someone else's preformatted spreadsheets and just pop in your data — most people do — you still have to take time to analyze it and tweak it."
Co said that in addition to the unhelpful labs, he attributes a further lack of syllabi to grading discrepancies in the labs. He said that without the syllabi as a physical record, there are knowledge gaps between introductory courses and more advanced classes. Even when Co stuck to the lab report basics covered in the introductory engineering course, professors would still deduct points from his submitted lab report assignments.
A version of this article appeared in the Monday, Feb. 27 print edition. Email Htoo Min at [email protected]