Martin and Varney: On the Ice to Behind the Bench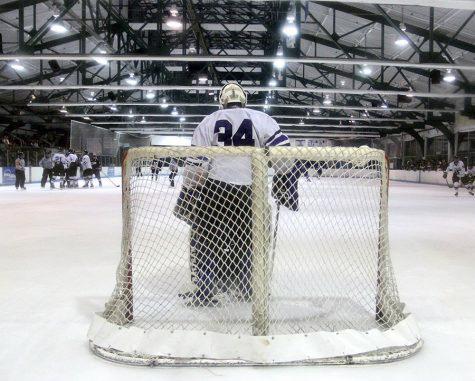 Sitting against the glass at the Chelsea Piers Sky Rink as men's league players hit the boards, Coach Mike Martin joked about his former player-turned-coaching partner, Spencer Varney's discovery of the difficulties that come with coaching.
"Why aren't the guys just doing what we tell them to do? It'd be so easy if they just did what we told 'em."
That's what Varney asked Martin one day early on in the season.
"Day in, day out, coaching is pretty aggravating and stressful," Martin said.
Of course, both concede that at the end of the day, there is so much more to it than that.
Varney and Martin comprise the terrible twosome of assistant coaches who have helped NYU hockey head coach and Yoda-like figure Chris Cosentino, as well as goaltending coach Dan Fortunato, lead the team to greatness this season. With the ACHA Division 2 National Championship looming, more greatness could be on the horizon.
Neither are strangers to the NYU hockey program, both having been players in their undergraduate careers, then briefly as graduate students before moving to roles behind the bench. Martin, who graduated from SPS in 2008, has been with the Violets even longer than Cosentino has been. He first joined the team as a freshman in 2004 and made the switch to coaching after a year playing as a graduate student during the 2009-10 season. Varney, who graduated from SPS in 2014, joined the coaching staff only this season after being away from the Violets for a year. He spent that year soaking in becoming a national champion as a graduate student — a win that was many, many years in the making.
"I only scored like 10 goals in my whole career here, but had a pretty good plus/minus and was captain for my junior and senior year," Varney said. "And then [that following] summer, I was in Europe and [Cosentino] texted me and was like 'Hey, did you hear we're looking a new coach?' and I said 'Who are you thinking of?'"
Cosentino told him to give him a call when he returned to the states. And now?
"Here I am," Varney said.
In a program all about uniting and supporting one another, having someone like Varney, with a vested interest in the program and maintaining its legacy on and off the ice, was crucial.
"A lot of people reached out to us from across the country with a lot of great coaching experience," Martin said. "We knew we wanted someone who had that embedded dedication and loyalty to the program. I think this year's just been affirmation that we made the right call with him, for sure."
This experience mirrors how Varney first started playing with the Violets. Cosentino and Martin had spotted him playing a game against the Apple Core, and the rest is history.
Now, the real fulfillment in coaching comes from seeing the players grow from the boys who walk into the locker room for the first time to the men who leave it.
"We've been really fortunate as a pair of coaches to have players that have had the [level of] intensity and commitment that we have, at least, if not exceeding it," Martin said. "There were points where [the players] hated us and [said] we're terrible coaches and 'what are they doing this for; they're all crazy,' but at the end of the road I think they saw why and they saw that it was worth it."
Both Varney and Martin emphasized that the NYU hockey program values character more than success and failure on the ice. It's about having the drive to win. Both men were around for the 2015 National Championship title — Varney on the ice and Martin behind the bench — so they know a thing or two about that drive.
"The biggest thing that's applicable to hockey and life is just how incredibly, immensely difficult it is to be the best at something," Varney said. "For three years, every year, we took a step closer, but there was always loss and there was failure and we almost failed again in the year we won. It was just like all of those years of failure had built this hunger [to succeed]."
While the ultimate goal would be to have a new banner at the Chelsea Piers Sky Rink to sit alongside the 2015 edition, Varney said he would love to see the team come together on a new level.
"I think we have the skillset and, I hope, the determination and hunger to win but really I'd love to see these guys come together and carry each other across like wherever we end up," Varney said. "I would love to see these guys really truly come together and be that brotherhood."
Sophomore defenseman Eric Boyda sees the impact that Coach Martin and Varney have in terms of loyalty and leadership within the program.
"Their tenure also speaks volumes about their character and the culture of the NYU hockey program," Boyda said. "Coach Martin and Coach Varney have both dedicated significant portions of their personal time to our team and their passion and humility in the face of such a commitment not only solidifies them as stalwarts of the NYU Hockey program, but sets the precedent for future alumni."
For both coaches, the important thing is not a newly-raised championship banner — nice as it might be — but the people they raise in the locker room.
The real satisfaction is seeing these guys grow and change and become great people over the course of four years," Martin said.
A version of this article appeared in the Tuesday, Feb. 21 print edition.
Email Rachel Ruecker at [email protected].