NYU's New Joint Degree in STEM and Law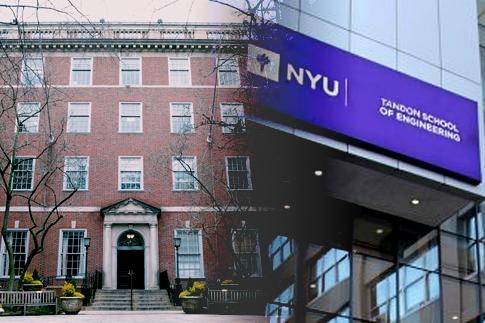 Despite NYU's reputation for its decentralized school structure, the university is quickly mastering the art of inter-school collaboration. The Tandon School of Engineering and NYU Law announced that they are working together on a new master's program in Cybersecurity Risk and Strategy, focussing on an interdisciplinary education that prepares students to address cybersecurity challenges.
In a press release announcing the program, NYU Law Dean Trevor Morrison said many professions are unable to properly handle cyberattacks, because they do not have enough knowledge of law and technology.
"The foundational idea here is that managing cybersecurity risk and strategy requires a breadth of training and perspective that is best provided by NYU's law and engineering schools coming together to offer this degree," Morrison said in the press release.
NYU Law Public Affairs Officer Michelle Tsai said the program spans 12 months and will begin in May 2018. She detailed that applicants are required to have at least a baccalaureate degree plus three years of work experience, and that before submitting the application, prospective students must also submit an assessment form to determine whether the program is a good fit for them.
Tsai said graduate students in the program will complete online and module-based coursework, as well as separate learning sessions.
"The MS CRS is based in a blended-learning approach combining both synchronous, in-person classroom time, and asynchronous learning, independent study," Tsai said.
The program will culminate in a capstone project in which groups of students will create a cybersecurity strategy and develop a method for its implementation.
"Students will tackle difficult challenges of technology, law, risk and strategy," Tsai said. "They will become fluent in the language of a wide range of disciplines bearing on the solution of difficult cybersecurity problems and will learn how to work together in interdisciplinary teams to manage both everyday situations and bet-the-company crises."
Tsai said the joint program presents a unique type of degree, centered around the interdisciplinary training she believes is necessary to address a new kind of threat.
"Unlike existing cybersecurity programs, most of which are offered by engineering schools, the MS CRS is the first jointly-conferred, blended-learning degree program offered by an engineering school and a law school," Tsai said.
Tandon junior Mateusz Chrobak believes the program is representative of NYU's ability to adapt to and address relevant challenges affecting major industries, such as cybersafety and security, which  are becoming more important as technology advances.
"By introducing this program, NYU is being proactive in equipping students with all the tools to be leaders in all industries," Chrobak said. "This will prepare us to tackle the emerging problems of today and those bound to appear in the future."
Chrobak believes that the program will be popular with students and that a direct collaboration between NYU Law and Tandon will help foster a more unified NYU culture.
CAS sophomore Althea Meer said the program is a way for computer science students, in particular, to acquire a broader background for their work. Meer believes this new master's program will change the common perception that people studying STEM only know about computer science or mathematics.
"This interdisciplinary approach seems like an opportunity to become better versed in other aspects that affect cyberspace such as policy, analytics, management and law," Meer said. "A master's program like this will allow us to become better prepared for working in the real world where we will surely be confronted with these challenges.
A version of this article appeared in the Tuesday, Feb. 21 print edition.  Email Greta at [email protected]