Tandon Provides Crash Course in Computer Science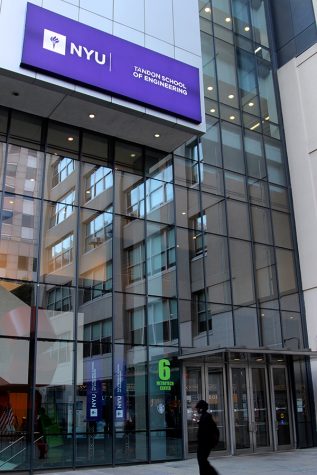 While the Brooklyn and Manhattan Bridges lead to the Tandon School of Engineering campus, there's no need to traverse these architectural feats to get a degree. Tandon announced its new program designed for domestic students called "A Bridge to NYU Tandon," which aids students on on the path to pursuing master's degrees in computer science.
Responding to a growing demand for computer science graduates, this unique program does not provide certificates upon completion, but does promise admission into the master's program in computer science or cybersecurity to those who achieve a B+ or higher. The course is less expensive compared to the $15,000 of traditional year-long efficiency courses that offer the same services — the 15-week online course costs $1,500.
The program was designed by professor of Computer Science and Engineering Nasir Memon. He said that he developed the idea when he witnessed some members of his family struggling to find employment in their industries, while others he knew were prospering in computer science.
"I realized that there are many who chose a discipline that is not able to place them in a job and for whatever reason they did not think about computer science at the point, and now they're looking at things but they think they may be able to do better things," Memon said. "We kept the cost low, although I wanted to make it free, which is ridiculously cheap. So I give you the opportunity to change your career or add a new dimension to your career."
Assistant Professor of Computer Science and Engineering Justin Cappos was loosely involved with the program during its beginning stages. He said that the purpose of the program is to prepare students for the Master's program.
"In general we've been very interested in getting students who don't have a background in computer science to a point where they can be successful within our program," Cappos said. "So there is clearly a lot of demand for people with technical computer science skills and we're trying to do our part to take smart, talented people who chose different majors and help them get the background they need to be successful with jobs and technology."
Memon said the university ran a pilot program last summer that was very successful. Of the 40 applicants, half were accepted. Six students completed the course and were admitted into the master's program. Memon said that he is thrilled with the results of the trial run.
"I'm amazed by the students — they're my heroes," Memon said. "I think there are so many of them out there who are in a position that is not doing justice to their talent, a position that is not allowing them to realize their full potential. It is very gratifying to see them succeed this way."
Memon said that this program, as far as he knows, is the first of its nature. Because of its success, they are going to run this program every fall and spring semester.
Tandon sophomore Joe Kracz currently studies computer science and he said that offering computer science classes to those with little to no experience in the field will benefit the master's program as a whole.
"It has the potential to improve the quality of the graduate classes offered here at Tandon, as well as at other universities," Kracz said. "I have friends who have taken graduate level courses, and they have mentioned that not everyone who is taking them has a solid comp-sci background, meaning professors have to spend some time to go over something that some students are already familiar with. It allows professors to teach a higher level curriculum, without the fear of leaving those with less experience behind."
Email Jemima at [email protected]