IT Mixup Temporarily Forfeits Students' Administrative Control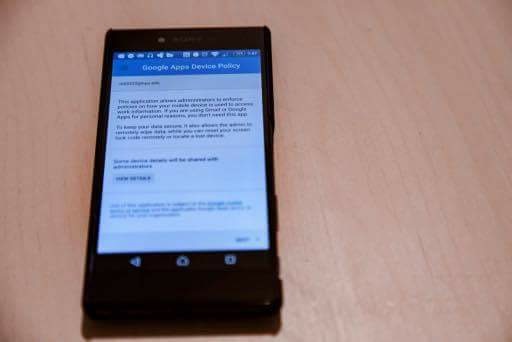 Silver School of Social Work graduate student Nanychi Franquiz accepted the terms and conditions that appeared on the app before she realized that she was giving up control of her phone.
"When I saw that they could remotely access and erase my data I tried to erase it," Franquiz said. "However, before I even got to that point I was required to put a password on my phone. I was not allowed to simply swipe; that option was blocked when I went into my phone's lock and security setting."
On Friday morning, students with Android devices or iPhones without passcodes were prompted to download an app called Google Apps Device Policy when trying to log into their NYU email accounts. A notification appeared on users' phones and would not disappear until students clicked 'next' to download the app.
In the written explanation of the update, the terms and conditions said, "This application allows administrators to enforce policies on how your mobile device is used to access work information."
It outlined a list of administrative powers that would be forfeited if the student accepted the terms — it granted administrators the authority to erase all the data on the phone; set password rules such as controlling the length and characters allowed in screen lock passwords; monitor screen-unlock attempts and delete data after too many incorrect inputs; and change the lock screen, among other things.
In a service report, NYU IT explained that if students installed the app, they should now uninstall it and restart their devices. IT apologized for the inconvenience and said that students should not be prompted with this message again, and neither should there be any security concerns related to the incident.
NYU spokesperson John Beckman said that NYU administration was aware that some members of the NYU community received this notification but that it was not the fault of the university. He said it was a change in the Google interface that caused this notification, and NYU has never required students to agree to the Google Apps Device Policy.
"This notification came from Google, not NYU," Beckman said. "Google made a change in the user interface and in the process turned this requirement on for the NYU Google domain, in error."
Beckman said that the university did not request the change and that once the issue was reported to Google, it was corrected immediately. Therefore, it is no longer necessary for students to agree to the terms and conditions to access their NYU accounts.
Although Beckman said that the issue was sourced with Google as opposed to the university, a customer services representative from Google said on the phone that Gmail accounts assigned by the university can still be controlled by the university.
Franquiz said she originally thought the app asking her to cede administrative command was a joke — she said that since the phone is hers, she should not be asked to relinquish her rights to the university.
"There was certainly a little deception there and too many unanswered questions," Franquiz said. "At no point did these terms and conditions state a reason behind this registration and I personally feel that since they did not contribute to the purchase of my phone they should have no access to it whatsoever. It's an invasion of privacy and an overreach on [the university's] end."
A version of this article appeared in the Monday, Feb. 6 print edition. Email Jemima McEvoy at [email protected]