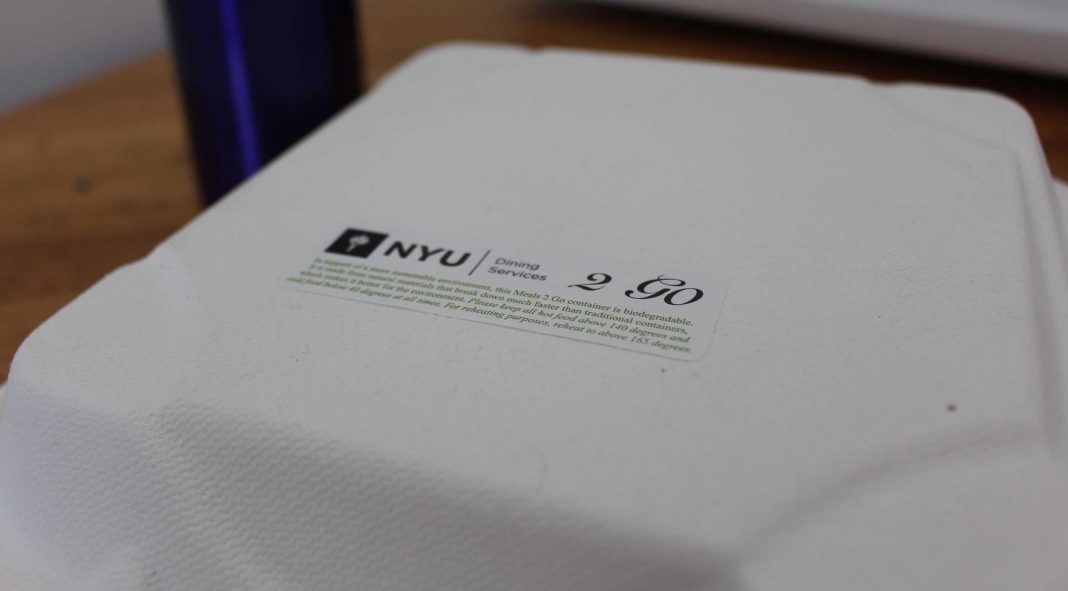 Thousands of students take out food from NYU's dining halls each day. By now, some may have realized a small sticker on Meals 2 Go containers that state the boxes are made from biodegradable, tree-free materials. However, there are probably many who don't know that these containers were created as a result of NYU's Green Thread platform.
Green Thread, NYU's sustainability platform, is an environmentally-friendly approach to campus dining services. According to the program's website, it aims to provide responsible sourcing, reduce waste and make operations more efficient. Downstein Dining Hall is a great example of Green Thread at work. The dining hall no longer provides straws to ensure that only food waste is discarded and can be composted daily. Employees are trained to cut vegetables more efficiently to minimize food waste. Downstein also offers green plastic takeout boxes on sale for $5. All other non-reusable takeout boxes are compostable.
In 2010, NYU Dining Services began removing trays from its dining halls, leaving them at only Kimmel Market Place and Palladium Dining Hall, where trays are necessary due to separated serving and eating areas. Green Thread's efforts to go trayless not only conserve water and reduce the amount of chemicals going into the water stream but also significantly reduce food waste.
However, not all NYU students are pleased with the university's efforts in promoting environmentally sustainable behavior. Some wishing that Green Thread would take more drastic steps to decrease the environmental impact of NYU's dining halls, so organizations such as all-university club Two Birds, One Stone brings untouched food from dining halls to various community organizations throughout New York City. They have done this since 2006. While CAS Senior Mac Hughes-Cromwick, the organization's president, sees the shortcomings of NYU's sustainability efforts, he respects the university's efforts with the Office of Sustainability and Green Thread.
"I don't think I'm the right person to ask about NYU's food waste, though I can tell you that last semester, we delivered over 2,500 pounds of leftover food from NYU dining establishments," Hughes-Cromwick said. "The Food Recovery Network, of which TBOS is a part of, has a lot of great information on food waste, including facts such as the average college student generates 142 pounds of food waste a year."
Kimmel Marketplace has started using eco-friendly cups and plates this year. Additionally, Lipton Dining Hall is experimenting with becoming vegan next month. Despite learning about these efforts from NYU Dining Services' weekly emails, Steinhardt freshman Chanel Vidal still does not view NYU as an eco-friendly school. She does, however appreciate the steps the university is taking to become more green.
"Well, at least they have recycling for trash in dorms," Vidal said.
Despite students' mixed reviews on eco-friendly projects such as NYU Unplugged, Earth Matters, and Green Thread, NYU is on its way to becoming a more eco-friendly and sustainable school.
A version of this article appeared in the Monday, Feb. 6 print edition. Email Jiayun Yang at [email protected]