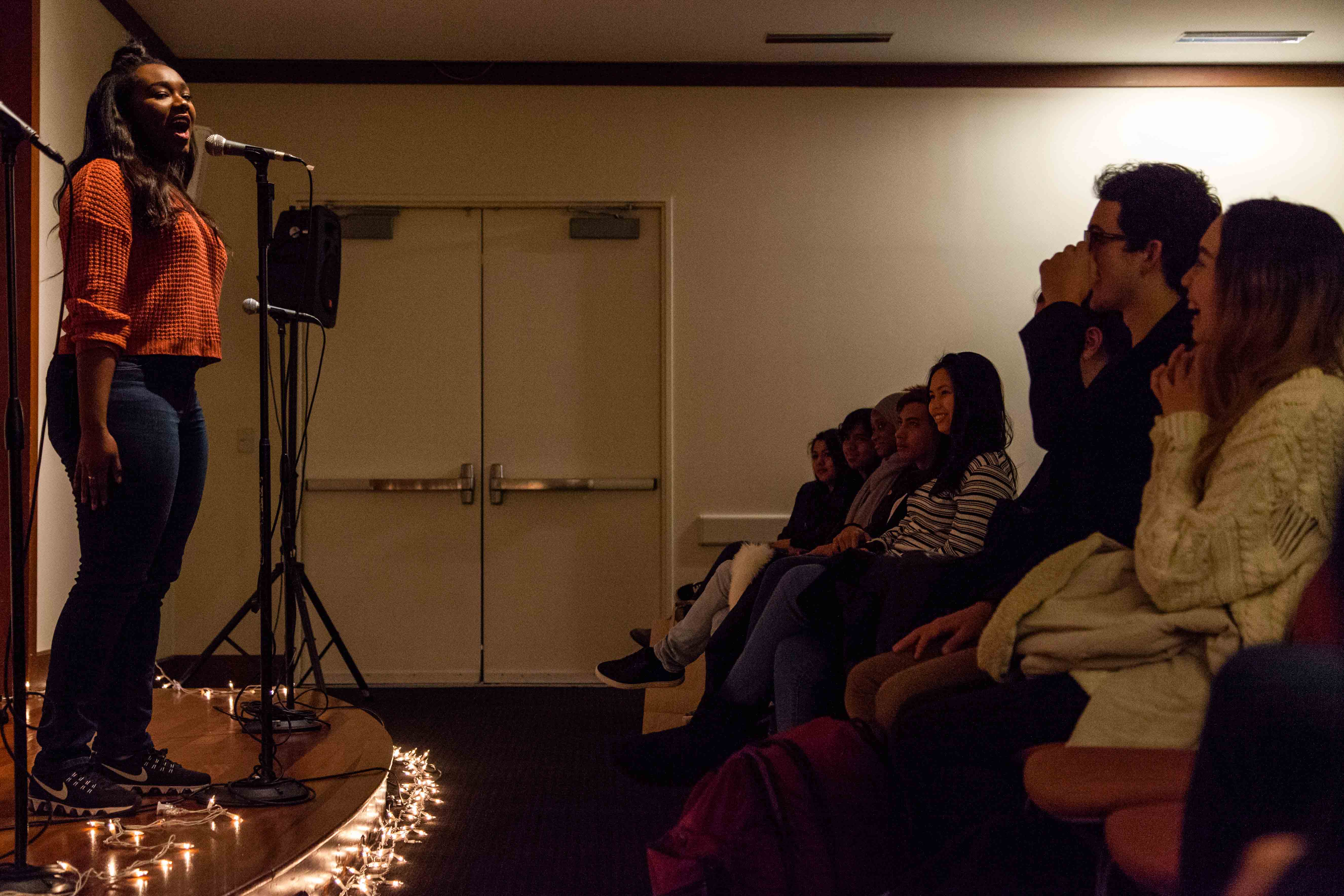 Amid classes, internships and extracurriculars, there is not always time for students to appreciate the vast amount of talent on NYU's campus. It is only on rare occasions that musical theater enthusiasts from every class and program are able to unite for the sheer enjoyment of performance. Broadway Night at Kimmel, an NYU Spring Welcome Week event held on Thursday, was one of those events.
Broadway Night was an evening of impromptu cabaret performances featuring renditions of everyone's favorite showtunes. The event followed the usual open mic structure, with the bravest performers signing up early and fellow risk-takers finding their courage as the evening went on. The show opener was Tisch sophomore Sarah Musicant, who performed the heartfelt Disney ballad "A Change in Me" from "Beauty and the Beast." Then came the classic "Waitress" piece "When He Sees Me," emphatically performed by Tisch freshman Tiana Jung. Other spotlight moments from the evening included Tisch sophomore Brian Densey's renditions of "Run Away With Me" from the lovable Kerrigan and Lowdermilk musical "The Unauthorized Autobiography of Samantha Brown" and "Made of Stone" from "The Hunchback of Notre Dame."
Tisch students didn't steal the entire show, however — CAS sophomore Morghan Brown's  powerhouse performances of "I'm Here" from "The Color Purple" and "A Summer in Ohio" from the Jason Robert Brown musical "The Last Five Years" brought fervent applause. Other surprises from the evening included Stern freshman Aida Franco's soulful renditions of "Gimme Gimme" from "Thoroughly Modern Millie" and the classic "On My Own" from "Les Miserables." Stern senior Shawn Thibault inspired the audience with his version of "Wavin' Through A Window" from the musical "Dear Evan Hansen." The night also featured duets of the "Little Shop of Horrors" hit "Skid Row" and "A Whole New World" from "Aladdin." There was even a spot-on lip sync interpretation of the "Hamilton" power track "Satisfied."
Many of the attendees, such as CAS junior Maddie Kestenbaum — who was also the night's emcee — were impressed with the performances. "I think it was really amazing," said CAS junior Maddie Kestenbaum. "With the people who signed up to perform early on and then people just volunteering to go, it ended up being really fun."
Like any musical theater gathering, the event concluded with mass sing-alongs of essential hits "You Can't Stop the Beat" from the musical "Hairspray" and "We're All in This Together" from "High School Musical." The evening's biggest flaw was easily the lack of songs from the score of Johnathan Larson's "Rent." It was a night of shared interest in great music, theater cliches and all that jazz. Broadway Night gave NYU students a much needed opportunity to experience and appreciate all the talent NYU has to offer. Hopefully, those in attendance left with newfound love for NYU's performers
and productions.
A version of this story appeared in the Monday, Jan. 30 print edition. Email Alexandra Pierson at [email protected]