A Trump Inauguration Guide: Talking with Willie Geist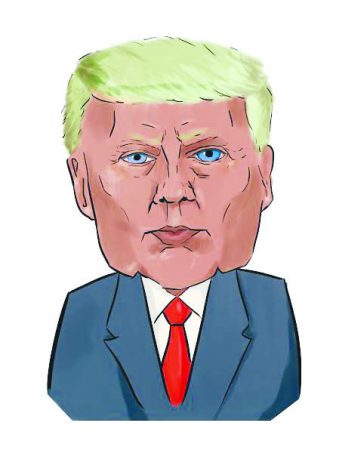 With the inauguration of the 45th President only hours away, the world is waiting to see what events will unfold as Donald Trump officially takes office.
Washington Square News spoke with NBC News Correspondent Willie Geist about what he expects to happen as he prepares for the day. Geist, the co-anchor of MSNBC's Morning Joe and anchor of Sunday Today with Willie Geist, discussed how he expects continued Trumpisms on Twitter, increased protesting and extreme fact-checking to all play vital roles in today's inauguration.
"I think we're going to see a spectacle in 48 hours like we've never seen at an inauguration in terms of who is there, who is not there — certain members of congress to name a few," Geist said. "It will be a very different event."
Social Media
President-elect Trump has consistently used social media to communicate with the public throughout his campaign. He has an audience of 45 million Americans through social media — on Twitter alone, Trump has a following of over 18 million people. Primetime networks CNN, Fox News and MSNBC only reach 4.66 million people combined.
Therefore, Geist said that compared to previous administrations, the public will get exposure to more material directly from the president than they will see from the press.
"So we say here's some poll numbers that show Trump has got the lowest approval rating for an incoming President in 40 years, and he replies that the polls are phony and they're rigged," Geist said. "Those are the kinds of things that we would hear behind closed doors in previous administrations: from the Obama administration; from the Bush and Clinton administrations. He is doing it in public so what we have to do is fight that with facts, which is what we've always been doing"
Protests
The protests and demonstrations across the country after Trump won on Nov. 9 are expected to continue throughout the inauguration and during the days following the event. Police anticipated that there will be a record number of protestors at the inauguration ceremony, as well as at other marches and protests elsewhere. The Women's March on Washington — an event scheduled to take place the day after Trump's inauguration — has a predicted attendance of 200,000, which triples the estimated 30,000 protestors at Nixon's second inauguration.
Geist said that the nature of this inauguration will be unprecedented, because those who are bitter over the election results will continue taking advantage of any opportunities throughout the transition to demonstrate anger and aversion.
"I think that it will be reflective of the beginning of his presidency, which is to say Clinton won three million more votes than Trump did, so that means there are more people in this country that think that Clinton should be president than Trump," Geist said. "And so that means those people who are frustrated that Clinton is not president, they will hose him at every turn throughout the transition."
Boycotts
About 60 House Democrats have attributed the tension between Trump and prominent civil rights leader Representative John Lewis, Democrat of Georgia, for their inaugural absence. In an interview released on NBC, Lewis questioned Trump's legitimacy as a President because of his possible involvement with Russian hacking. Although dozens of House Democrats already planned to abstain from the inauguration before this feud manifested, many of Lewis' colleagues pulled out in the last few days.
Geist said that the accusation from Lewis could become a precursor for permitting people to maintain a dangerous attitude of complacency towards the policies and plans made by the Trump.
"Because it's [Lewis] and because people respect him so much, I think that was a little scary shock to the system, because now it validates and gives cover to so many people to say, 'Well, John Lewis said it. This is not a real President. We don't have to listen to him; we don't have to abide by him,'" Geist said. "But also we're in a world where sitting Members of Congress who theoretically have to work the President to get things done are saying, "Well, he's not really our President.'"
However, House Democrats aren't the only people refusing to attend the ceremony. Members of Hollywood who do not want to be associated with such a controversial president, such as Elton John, Céline Dion and KISS will not attend today. And a number of other artists have rejected invitations to perform — several artists such as Jennifer Holliday and The B Street Band, a Bruce Springsteen cover band, pulled out closer to the event.
Accountability
According to Geist, the inauguration represents a new era for Trump, where he will have to justify the validity of his plans — ones for both claims and policies that formed the core of his campaign. Geist said that once all of the distractions of media buzz wear off, the focus will shift onto Trump's policies: Is he actually going to repeal Obamacare? If so, what is he going to replace it with? What is going to happen to the 23 million people who have insurance because of Obamacare who now will not have it?
"I think there was an element of his campaign where he knew that he could fire up a crowd inside a huge rally with 20,000 people with a few lines and they would cheer, but he never thought through how he would execute them," Geist said. "But those were policy prescriptions: building a wall, repealing Obamacare, banning Muslims. Those were all real things that he said, and we need to make sure we know if he's actually going to do them and if so, how he's going to do them."
Email Jemima McEvoy at [email protected]