Violet Alum Ralph Branca Passes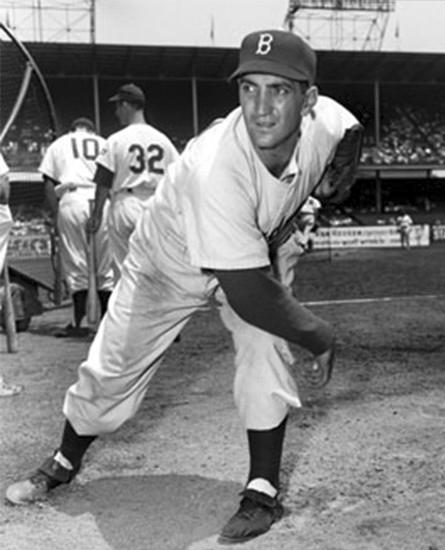 Ralph Branca, beloved Brooklyn Dodgers pitcher and former NYU Violet, has passed away in Rye Brook, New York. He is best known for surrendering Bobby Thomson's walk-off home run in the third and deciding game of the 1951 NL tiebreaker against the New York Giants. He was 90.
Branca was born and raised in Mount Vernon, the 15th of 17 children, and attended what was at the time named A. B. Davis High School. He then spent a year at NYU, where he showed signs of his professional potential. Branca was a multi-sport athlete in college, playing both basketball and baseball for the Violets.
Signed by the Dodgers in 1943, Branca made his major league debut in 1944 and continued to improve as a reliever before becoming a starter in 1947. That year, Branca stood with Jackie Robinson, who was making his major league debut, when other players refused to stand next to him. Branca made the All-Star Game three consecutive seasons from 1947 to 1949, with a combined 48-26 record and 3.52 ERA.
However, Branca would forever be remembered in 1951, when he was called to the mound to face Thomson
in the bottom of the ninth inning against the Giants with a two-run lead and the winning run at the plate. Thomson delivered, ripping Branca's fastball into the left field seats to clinch the pennant with the "Shot Heard 'Round the World," one of baseball's most dramatic moments. Branca took the loss in stride and with grace even as rumors of sign stealing by the Giants swirled, and he eventually became close friends with Thomson. He finished his career with an 88-68 record and 3.79 ERA.
Branca's passing was met with praise and admiration.
"I extend my deepest condolences to the family, friends and fellow admirers of Ralph Branca, a three-time All-Star, a friend of Jackie Robinson and a former president and board member of the Baseball Assistance Team," MLB Commissioner Rob Manfred said in a statement. "Ralph was a true gentleman who earned universal respect in the game he loved and served so well."
His son-in-law, Bobby Valentine, remembered Branca on social media. "In his 91st year on earth he left us with [the] same dignity and grace that defined his every day on earth," Valentine wrote on Twitter. "He will be truly missed."
Branca is survived by his wife, Anne, two daughters and three grandsons.
A version of this article appeared in the Monday, Nov. 28 print edition. Email Michael Thompson at [email protected].