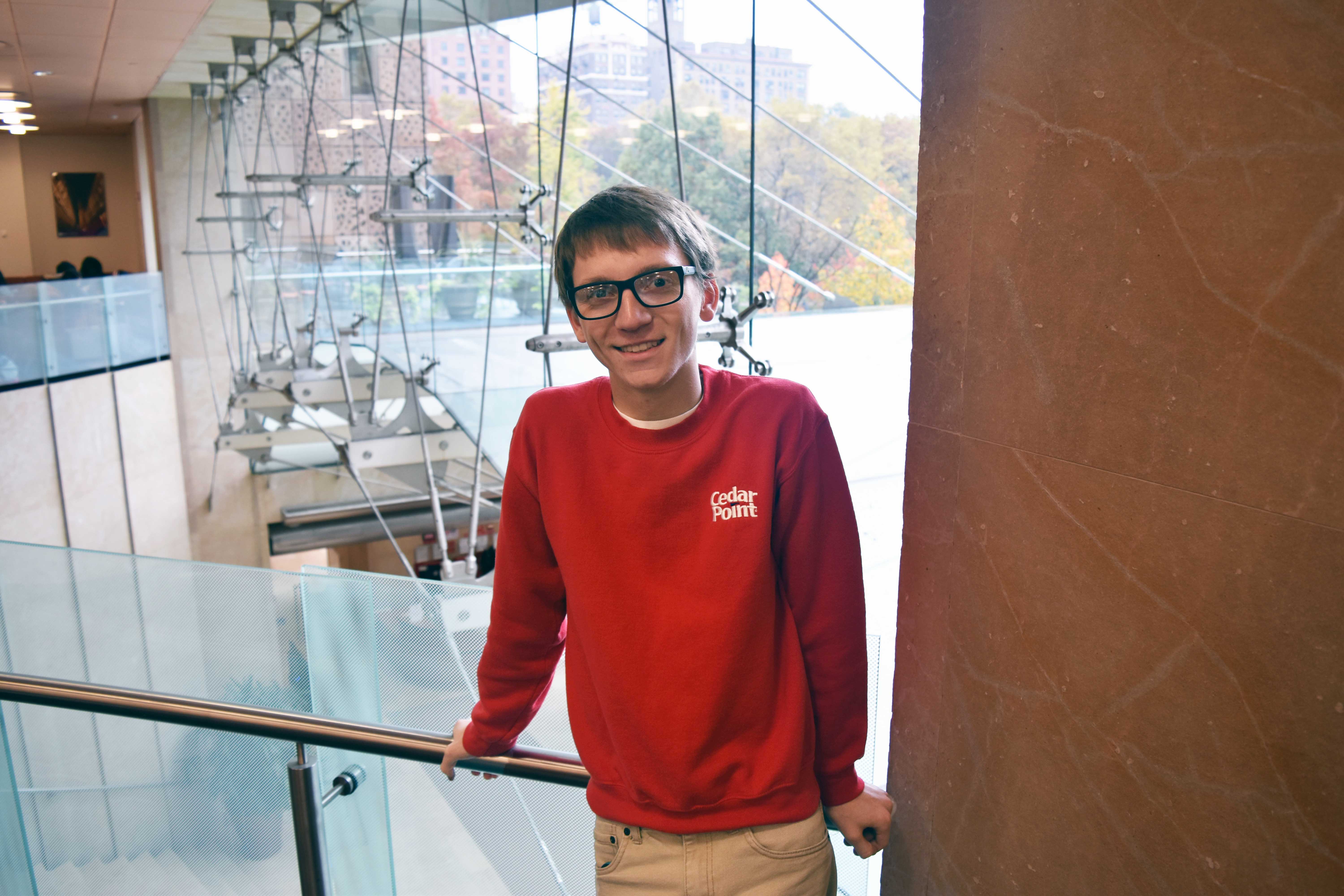 Gregory Woltman doesn't have to worry about being alone on a Friday night: he knows he will be surrounded by his best friends and up to 300 strangers who come out weekly for the love of "Rocky Horror Picture Show." A CAS sophomore studying French and Linguistics and an avid "Rocky" fan since middle school, Woltman sought out joining the show within his first month at NYU.
"When I came to school, I was really interested in seeing the show here," Woltman said. "This is the one that started the whole culture of shadowcasting and midnight shows 41 years ago."
Woltman applied for a place on the crew in November of 2015, went through the interview process in January and then spent his second semester of freshman year working on the props and lights crew. Woltman is now on the cast roster of 30-some people and has played a variety of roles, including Magenta and Janet. He can regularly be seen playing Rocky, the naive and sexy creation of Dr. Frankenfurter, and Trixie, the personification of the lips that sing "Science Fiction / Double Feature" at the beginning of the show.
"The people are the best part," Woltman said. "I know everyone says that, but really. They've become my community and my family. I haven't found a salient group at NYU — but the Rocky cast is where I found a home."
The hardest part of the job, according to Woltman, is finding a good balance between screen accuracy and personalization of the character he plays. Because the film has such a cult following, audience members expect the actors to be accurate in their movements, costumes and other nuances.
Woltman, however, has learned to put his own twist on concrete and well-loved characters.
"I'm so skinny and so gay," Woltman said. "Rocky is known to be very buff and has a lot of heterosexual scenes. So I've made my own version of Rocky — it's very funny. I play a comically-skinny and unapologetically-gay Rocky while trying to maintain screen accuracy."
Acting as Trixie, on the other hand, comes with fewer expectations of him.
"'Science Fiction / Double Feature' is my favorite song to perform because screen accuracy doesn't matter at all," Woltman said. "I chose to play that scene as a comic book nerd — I have suspenders and glasses with tape on them and a checkered shirt. It gets really sexy — I end up being totally bare bones."
Even though Woltman is not a performance major, he is happy with the impact that performance has had on his life here, especially in such a devoted, sex-positive community with a lasting legacy.
Woltman urges those who have never seen a live version of the "Rocky Horror Picture Show" to come see it.
"It's strange and like nothing you've ever seen before," Woltman said. "The whole idea of 'Rocky' is such a living, breathing thing and what we do is just a small sliver of what it is. The screen-shadow is an integral, unique part of that."
Gregory Woltman can be seen playing various roles in the "Rocky Horror Picture Show" shadowcast at midnight every Friday and Saturday at the Cinepolis Chelsea Cinemas. Bring your rice, toilet paper and confetti.
Email Camille Larkins at fe[email protected]