Madonna Affirms That #ShesWithHer at WSP Rally
Madonna stood in the fountain of Washington Square Park on Monday night — the eve of election day. She serenaded the crowd during her impromptu acoustic concert that served as a rally for Hillary Clinton.
The concert lasted 30 minutes and during her mini-show, Madonna discussed how voting for Clinton would help people of color and the LGBTQ community.
"Vote with your heart, vote with your mind, vote with your spirit, vote with your soul. Save this country, please," the singer said. "We're going to elect a president that does not discriminate."
She sang "Rebel Heart" and "Like A Prayer" as well as John Lennon's "Imagine" and Peter, Paul and Mary's "If I Had A Hammer."
Madonna campaigned for Clinton throughout this election cycle, and she cautioned people about what might happen to the United States if the Democratic party did not hold another four years in the Oval Office.
Many NYU students attended Madonna's performance, and while students such as Steinhardt freshman Jason Le did not know about it beforehand, he thought it was worthwhile to attend. He found it inspirational and said that this was a good precursor to Election Day.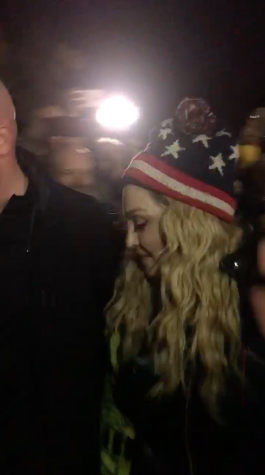 "She reminded myself as well as all who attended that we have a civic duty to this country, and that is simply to vote," Le said. "As she sang John Lennon's 'Imagine,' we sang together, in solidarity, to be reminded that we are the change we have been waiting for, and our vote can decide the fate of this country."
After Madonna's performance, a flash mob of around 100 people started dancing while clad in Clinton-inspired pantsuits. Celia Rowlson-Hall and Mia LIdofsky organized this in coordination with the Clinton campaign.
"She's so strong and fierce," Lidofsky said. "It was an expression of compassion and love and community."
Gallatin Artist in Residence Breton Tyner-Bryan choreographed the ballet portion of the flash mob. Volunteers were notified of the flash mob with fewer than 12 hours to prepare for the surprise dance.
Despite the short amount of time, Tyner-Bryan wanted to help with the movement because she is excited about the prospect of having a female head of state.
"This is what New York stands for," Tyner-Bryan said. "The pantsuit represents gender equality moving forward as a platform to elevate us all."
Rowlson-Hall and Lidofsky called themselves "official lovers of Hillary" and were eager to support Clinton. Everybody who took part in this dance was a volunteer, including dancer Chris Makens. He participated because of his previous friendship with the choreographers.
"Clinton will get the job done," he said confidently.
Email Sayer Devlin and Natasha Roy at [email protected]