University Gives Anti PC Professor Ultimatum on Paid Leave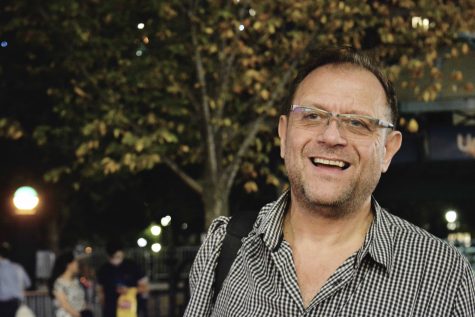 LS Dean Fred Schwarzbach threw down the gauntlet to Michael Rectenwald, an adjunct professor on paid leave who is under consideration for full-time professorship.
Rectenwald is better known as Deplorable NYU Prof on Twitter and goes by the handle @antipcnyuprof. In his op-ed published by the Washington Post, Rectenwald suggests that NYU pushed him to go on paid leave in response to his comments in which he came out as strongly against political correctness culture.
The NYU administration is strongly disputing this, however, amounting to a they said/we said controversy about who suggested Rectenwald's paid leave.
"They [Schwarzbach and a member of NYU human resources] brought it up — there was no way I would — I would never do that out of the blue," Rectenwald said. "I accepted it, that's what I did. I didn't request it."
He said that the media is making connections to his tweets and opinions with the timing of his leave of absence, and Rectenwald said that this made him believe that the two situations might be connected.
However, NYU spokesperson John Beckman said that Rectenwald was the one to ask for it.
"The claims in Professor Rectenwald's op-ed piece, are, to put it plainly, a tissue of lies," Beckman said. "Professor Rectenwald needs to come clean and stop speaking out of both sides of his mouth. Either he requires the leave — which is what he has told us in writing — and it will continue, or he does not, in which case we will withdraw it and he will resume his assigned class. He cannot continue to have it both ways."
Beckman said that the university does not give paid leaves to faculty members unless they request it and that they do not give leaves to faculty members due to opinions expressed on Twitter or other mediums.
"He tells one story publicly and a different one in writing to us, and they vary from day to day," Beckman said.
He added that his accusation about NYU's lack of commitment to the free exchange of ideas or to providing a home for a range of opinions is "unwarranted, false and certainly not validated by his own case."
The university also published an email exchange between Schwarzbach and Rectenwald that pertains to his leave. And in the final email, Schwarzbach asked Rectenwald to give a clear story to all parties.
"Because of the repetitions of the tale you have woven publicly about how you came to have leave — in spite of saying the opposite privately — I cannot tell which version you actually consider the truth," Schwarzbach wrote in the email on Thursday after the Washington Post op-ed was posted. "For us to be clear on your needs, we require you to state unequivocally and in a direct, unambiguous response whether you still need the leave you requested. I expect that answer — whichever you give — to be henceforth the same in all settings."
Rectenwald questioned the legality of publishing the emails online, and he said that all other exchanges between him and Schwarzbach were verbal. Rectenwald said that he did not fully remember the language used when he met with Schwarzbach and an unnamed member from human resources.
"The verbiage in that? It was very veiled language," Rectenwald said. "They gave the indication that it would be a good idea, and I accepted it — it wasn't my idea."
Rectenwald had not opened the email from Schwarzbach, and after hearing the contents read to him, he said that his response to Schwarzbach will be to continue his paid leave of absence.
"In my email to Dean Schwarzbach, I'm not going into any depth about my article [in the Washington Post]," Rectenwald said. "I'm just going to say I accept and I want to take the leave, and that's that."
Email Diamond Naga Siu at [email protected]