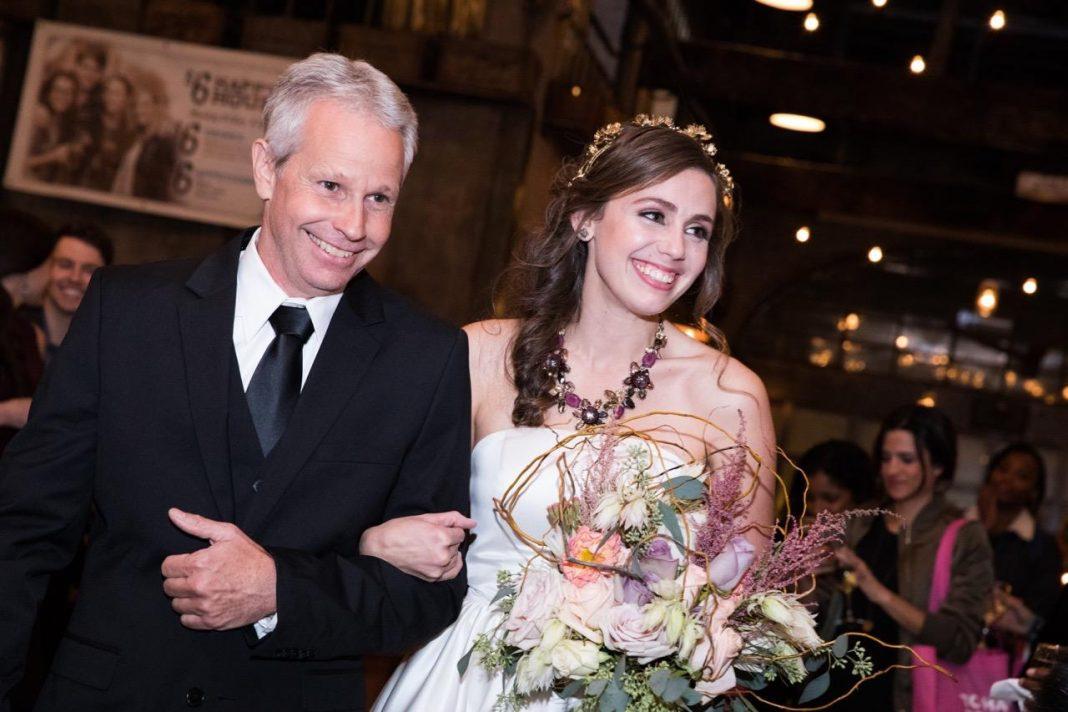 A young bride woke up on On Oct. 24, the day when she would walk down the aisle to legally affirm her love for her soulmate. She got dressed, got her hair and makeup done and was awaiting her big moment. When the moment finally arrived, she proceeded to walk down the aisle with her hand in her father's hand — surrounded by complete strangers. This wasn't a traditional ceremony. This was a Big Fake Wedding.
At the Houston Hall on W Houston St, a real couple renewed their vows in front of complete strangers in hopes that they would be able to help grant inspiration for future weddings, as well as giving wedding vendors a way to display their services. Described as a "bridal show alternative complete with an emotional vow-renewal ceremony, light bites and a dance-party reception," the Big Fake Wedding serves as an all-around positive experience about sharing the joys of a wedding day.
When WSN caught up with the bride and groom to get a quote about the experience, they had nothing but good things to say.
"Because we've been married for so long [four years], longer than people who are just getting married, we can truly appreciate the experience and appreciate each other while going through this experience," the bride said.
"I didn't have any nerves about it and it means a lot to us, because we renewed our vows," the groom added. But going through the process of Big Fake Wedding, it was totally awesome."
When asked if they would recommend this experience to anyone else, the response was immediate and encouraging. "If someone had the opportunity to do this, absolutely," the groom gushed. "It's just so cool."
Callie Murray, the founder of the event, described the idea as something that spawned from her past work as a wedding photographer.
"I was trying to figure out how to market my own business and I realized that every time I would photograph a wedding, I would work with other vendors or I would just meet people at the wedding and I'd have great photographs to share," Murray said. "So I thought, if I could just do really cool weddings, I could probably book more, and so I thought maybe I'll just create a really cool wedding. So I put together the first fake wedding in 2008 and kept growing it from there."
Murray elaborated that the events are a great marketing strategy because they prompt curiosity, but that it goes deeper than that. "We always say, you know, it's a fake wedding, but the marriage of the couple renewing their vows is very real and we try and get people to get emotional and think about their marriage that's coming up after their wedding."
Email Lizzie Essiedu at [email protected]