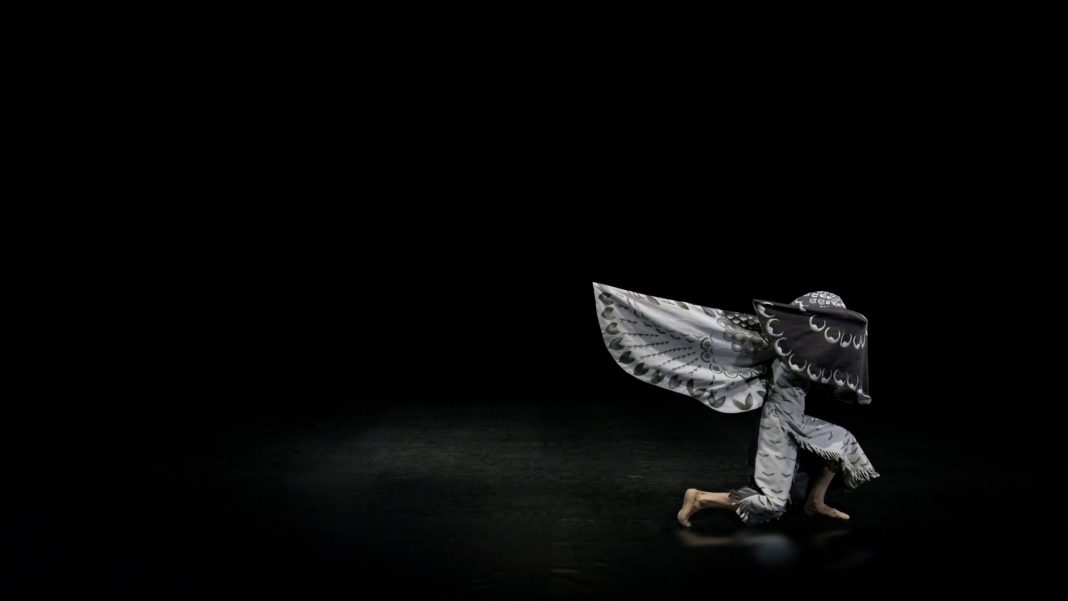 In an impressive celebration of Noh theater, World Wars and intense cultural cross-referencing, the Japan Society is currently hosting "At Twilight (After W. B. Yeats' Noh Reincarnation)," the latest installation by English conceptual artist Simon Starling. Noh theater is a traditional and very specialized form that combines dance, music and drama. "At Twilight" is a Noh theater-inspired mixed media exhibition featuring intricately designed Noh style masks, costumes, choreography, paper collages, photographs and historical pieces.
The exhibition operates, almost to a fault, within many layers. There are three separate sections to the exhibition, all of which display various facets of Starling's strange universe which is loosely based in W. B. Yeats' 1916 play "At The Hawk's Well." This universe existed as an actual play, also titled "At Twilight," performed in Glasgow, Scotland earlier this year — this exhibition celebrates the play and its various intricacies, but is not a performance in and of itself.
The piece has three separate rooms, one for each portion of the exhibition. The first room was the most relevant to the performance in Glasgow. Noh masks, crafted by artisan Noh designer Yasuo Miichi, tapestries and props from the play were arranged around a forest of burnt pine trees — a reference to the use of pine in traditional Noh theater as well as trench warfare during World War I. The theater featured a filmed version of an excerpt of the play's choreography, with traditional percussion music echoing around the room. The masks were crafted by artisan Noh designer Yasuo Miichi. The room's design and music were well-executed and set the mysterious and ethereal tone for the rest of the evening.
The second room serves to link the first and third rooms. It displayed the costumes and props used with the masks set facing a mirror, another Noh reference. The third room was essentially a collection of artifacts of Noh history and Starling's thought processes, which were later explained in great detail.
The costumes were absolutely stunning. Each piece was elaborately hand-crafted by designer Kumi Sakuai, with stunning monochromatic patterns that fit nicely in with the aesthetic of the rest of the exhibit as well as the play. Artifacts of Noh theater, mind maps and collages, photographs of Noh performers, and other sources of inspiration for Starling were also included.
"At Twilight (After W. B. Yeats' Noh Reincarnation)" is on display at The Japan Society until January 15, 2017.
Email Thomas Miritello at [email protected]