Pop-Up Luke's Invokes 'Gilmore Girls' Nostalgia
16 years ago yesterday, "Gilmore Girls" aired for the first time. In memoriam of this iconic show and in celebration of the upcoming Netflix revival, coffee shops all across North America converted local coffee shops into Luke's Diners'. There were 12 in Manhattan alone.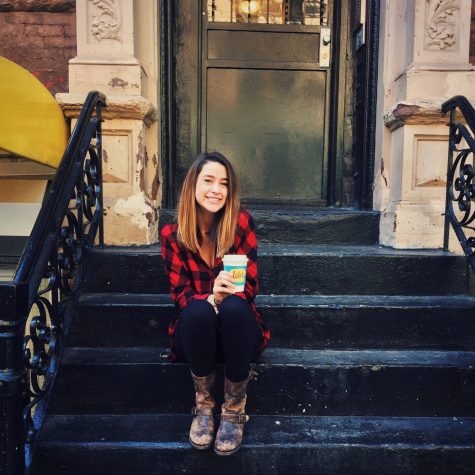 Gabriella Bower
"I have been an avid 'Gilmore' fan since I was five. I have watched and rewatched every episode over 20 times. I woke up early and went to The Bean on 2nd Ave. When I saw the Luke's sign on the door, my heart skipped a beat. But when I entered The Bean/Luke's I was underwhelmed. Sure the baristas were wearing backwards baseball hats (but NO flannels which is blasphemous) and they had Luke's aprons (which also isn't a thing) but there was no extensive line and half the customers didn't even know what Luke's was. So I got my free coffee and fangirled alone. Of course I proceeded to post on social media and it was there that I truly felt the 'Gilmore' community. The show stands the test of time —  friends I haven't heard from in years commented, equally obsessing over the thought of a real life Luke's Diner and eagerly anticipating the revival. While I had expected something equivalent to the Warner Brother's pop up of "Friends" Central Perk, nothing could have brought me down. Which probably could have been attributed to my Lorelai Gilmore caffeine-buzz." – Gabriella Bower, Beauty and Style Editor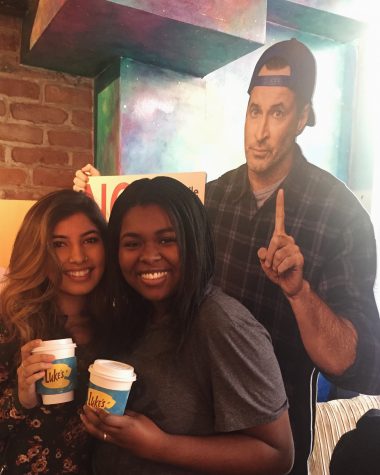 Taylor Rogers
"I binge-watched 'Gilmore Girls' on Netflix during my junior year of high school. Even though I was late to the game, I absolutely fell in love with the show and everything about it —  Lorelai's witty banter, the tight-knit community of Stars Hollow and of course, the warm atmosphere of Luke's famous diner. So when I found out that the coffee shop I frequent every day — The Bean on 12th and Broadway — would be converting their store into Luke's Diner for a day to promote the upcoming revival, I knew I had to go. I got up at 9 a.m. and spent about 45 minutes in line, eagerly anticipating what I would find inside. When I actually went in, it definitely didn't meet my high expectations of the warmth and old-school family style of Luke's Diner, but I appreciated the small nods to the show. All of the employees were dressed in flannel and backwards hats donning 'Luke's Diner' in yellow letters, and served coffee in Luke's Diner coffee sleeves. Of course, I think it is almost impossible to replicate the beloved Luke's Diner that so many 'Gilmore Girls' fans hold close to their hearts. But I was happy that I got to experience it in even a small way — and the hundreds of people willing to stand in the cold to get a touch of 'Gilmore Girls'' magic is a testament to how many people hold the show close to their hearts." – Ankita Bhanot, Deputy Features Editor
"The fact that I discovered and fell in love with 'Gilmore' was mere coincidence. The summer after fifth grade, I would return home from swim team practice everyday just as the daily 'Gilmore Girls' rerun aired on ABC Family. I cherished the moments my mom and I spent together obsessing over Lorelai and Luke as I had lunch (and she drank coffee). I'm not even ashamed to say that I first considered pursuing Journalism as a career while watching Rory and Logan spend an entire night pulling together an issue of the Yale Daily News after most of the staff had quit. My visit to 'Luke's Diner' may have been delayed by a 45 minute wait, the decorations may have been underwhelming, and I may have arrived too late to get the free coffee, but I'm glad I went all the same. Drinking an overpriced latte in a cup that said Luke's Diner across the front made me crazy excited for 'A Year in the Life' and made the 800 miles between my mom and I feel much smaller. I just pray the revival doesn't ruin all the magic." -Taylor Nicole Rogers, Dining Editor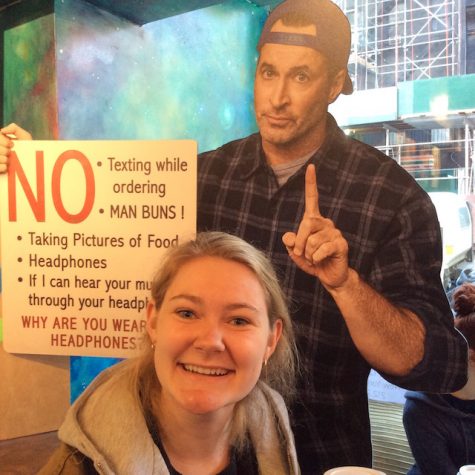 Rachel Ruecker
"I don't remember when I watched my first episode of 'Gilmore Girls.' It was always just sort of a part of my household growing up. I now have a near-encyclopedic knowledge of the show and own three sets of the complete series on DVD. Excessive, I know. So when I rounded the corner of 12th and Broadway this morning — clad in a Stars Hollow, Connecticut T-shirt — and saw the line coming out of the Bean and down the block, nearly reaching 11th, I felt weirdly possessive. Obviously, 'Gilmore Girls' has exploded in recent years, but the show is so personal to me, increasingly so as I've grown older, and so the juxtaposition of a lineup of fans waiting to get into a Luke's in downtown Manhattan and the image of the sweet, quirky community in New England it was trying to imitate felt wrong. When I stepped inside and saw the baristas wearing plaid and backwards baseball caps, I was nearly on the brink of tears of joy, but I also felt weird sharing this moment with a line of strangers behind me when 'Gilmore Girls' is all about community. But let's be real, I still loved every second of it and I know that this show means a lot to a lot of people and I need to get over myself." – Rachel Ruecker, Sports Editor
Email the Features Desk at [email protected].