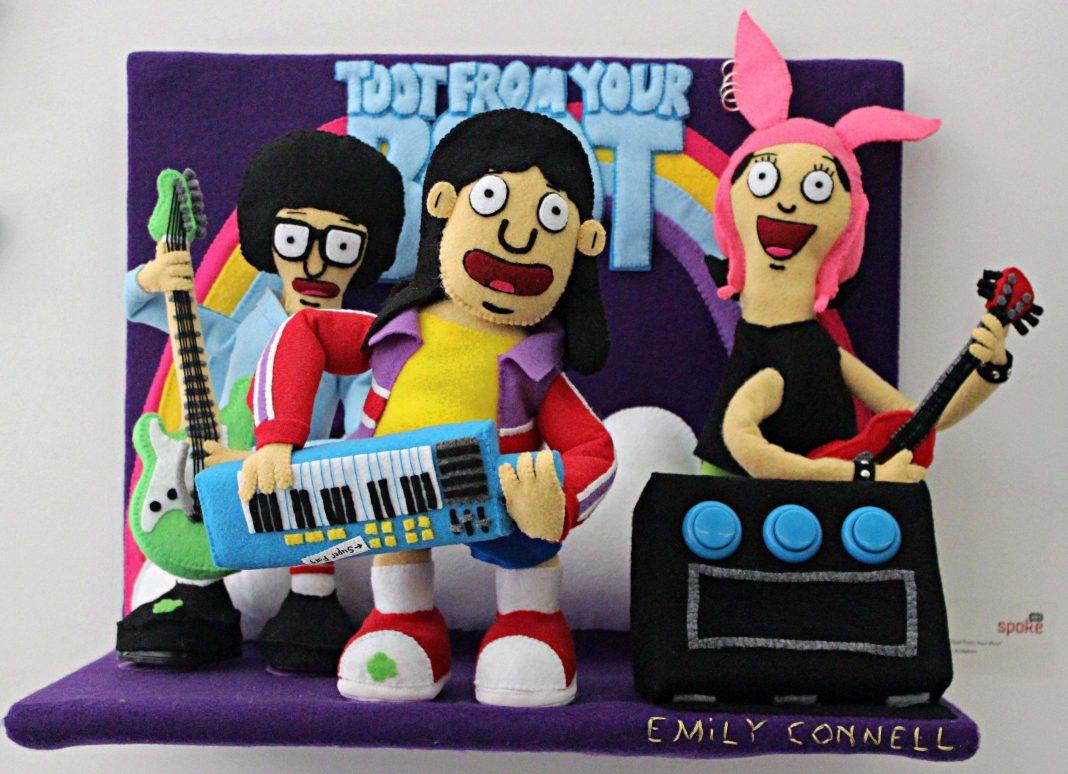 "Bob's Burgers" fans hungry for both art and burgers gathered together on Rivington Street this weekend. In celebration of the release of the show's seventh season, Spoke Art Gallery opened its art show tribute Saturday night, Sept. 24. Fans gathered in an hour-long line, anxiously awaiting their chance to see one-of-a-kind artwork by over 85 fans from all over the world.
The Spoke Art company was originally a San Francisco-based gallery. In collaboration with Bento Box Entertainment and Fox, "Bob's Burgers" is the first art show to take place at the company's brand new NYC location, a hugely successful start for the space.
"We've probably gotten about four or five hundred people through the doors so far and I expect at least another four or five hundred more tonight," said the owner of Spoke Art gallery, Ken Harman.
The exhibit is unconventional because its collection consists entirely of fanart, usually a genre looked upon with disdain. Each piece was created and curated by people who love the show, for people who also love the show.
"I used to love fanart when I was a child, but it was never seen as a valid form of art," said NYU alumna and "Bob's Burgers" fan Cassidy Dawn Graves. "This is actually an entire show of fanart. It's amazing."
The gallery showcases art of all mediums — paintings, prints, clay sculptures, 3D cut-outs and even animatronics. Emily Connell created the felt and animatronic sculpture, "Toot From Your Boot," inspired by the instant classic "Fart School for the Gifted" jingle from the TV series.
"I just love the song, 'Fart, fart, fart, fart, fart, fart, fart / every fart is a work of art,'" said Connell. "It's an art show and every fart is a work of art, so that sort of made sense to me. It's just funny because [the sculptures are] dressed in different old-school attire. I thought it would be a fun thing to make animatronic."
Aside from the art, there was plenty for fans to enjoy at the gallery's debut. The back wall features a replica of protagonist Bob Belcher's restaurant counter and window, created by toddland for fans to use as a backdrop for their photos. There was merchandise available for purchase, including Funko POP! figures, prints and all of the pieces in the art show itself. Bareburger, the event's food sponsor, provided attendees with delicious sliders for free.
"As a company, we're very much into the fun, into the weird and into the quirky," said Bareburger's public relations representative Jesseca Naldo. "For us this was an opportunity to get creative and do something outside of the restaurant and just do something fun. A lot of the people on our staff are big fans of 'Bob's Burgers,' so for us, it was just a no-doubt sort of thing for us to jump into."
The show's opening night was a great experience. The excitement in the room was almost tangible as fans got to see inside jokes from the show come to life in front of them in a whole new medium.
"I really liked the atmosphere of people seeing something and being like 'Oh! I remember that episode!' or 'Ha ha, I love seeing Louise interpreted in this way' or 'This captures the essence of Tina in a painting,'" said NYU freshman Rachel He.
The Bob's Burgers art show tribute will be open to all ages free of charge at Spoke Art Gallery at 210 Rivington St. until Oct. 16.
Email Katherine Armstrong at [email protected]