App Helps Map Water Bottle Refill Stations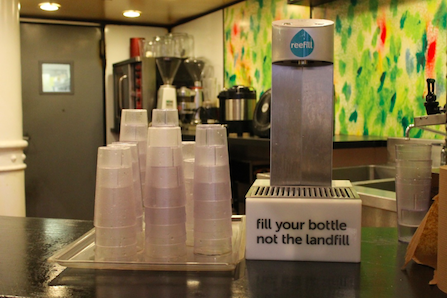 As 2015 Stern alum Jason Pessel walked down the street in sweltering Manhattan heat one day, he realized that the prevalence of bottled water was actually as wasteful as it was convenient. He was inspired to bring a solution to the NYU community.
"There was literally nowhere I could stop to fill up my reusable bottle," Pessel said. "I was actually with my cousin, who was annoyed that we were forced to shell out money to buy bottled water."
After some research, Pessel learned that bottled water is expensive in more ways than its immediate price: the oil needed annually to manufacture plastic water bottles could fuel over one million cars for an entire year.
Pessel then created Reefill — a handy mobile app that allows users to access bottle refilling stations. To refill a bottle, users download the app, sign up and connect via Bluetooth to unlock the tap at a station. There are currently nine Reefill locations around the NYU campus, such as at Kuku Canteen, Vivi's Bubble Tea and The Uncommons. A 10th station is to be installed soon.
Reefill was conceived as an NYU Green Grants Project. Every month, the Green Grants committee convenes to award funding to innovative project proposals that reduce the university's environmental footprint. Reefill's goals are also aligned with NYU's Take Back the Tap campaign which aims to end the sale of all bottled water in NYU buildings and to create more ways to fill up reusable bottles.
"They provide a lot of opportunities for feedback and identify the likely hurdles for a project to be accepted," he said of the Office of Sustainability, which he found especially helpful during the application process.
While the NYU campus has several water fountains, they are not always easy to locate. Once a student downloads Reefill and enters his or her NYU Net ID, a map displays over one hundred pre-existing water fountain locations.
Pessel discovered that water fountains are not easy to come by outside of campus, hence Reefill's utility as an alternative to bottled water. Reefill stations, which are manufactured in Italy and Spain, chill and filter the water they dispense — an advantage over typical water fountains.
Reefill launched during Welcome Week, and new users have been signing up for the program on a daily basis. Students receive a one-month free trial with the promo code "FREEMONTH," after which they will be charged $1.99 per month.
Pessel is hopeful for the future of responsible water consumption and distribution. He plans to expand Reefill to the greater New York City area, as well as other major cities.
"The goal is to make Reefill as prevalent as Starbucks," he said.
A version of this article appeared in the Monday, Sept. 12 print edition. Email Lavanya Shukla at [email protected]