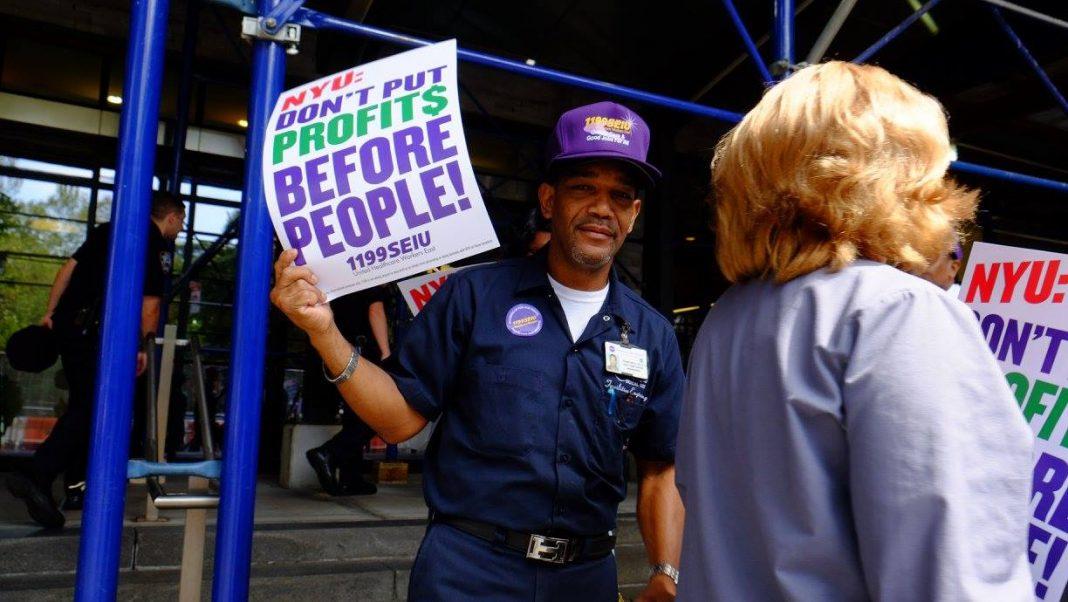 In an ironic turn of events, NYU Langone's employees might no longer be able to afford the organization in which they work — employees protested the hospital this past month about the facility cutting their health benefits.
The Vice President of the Health Care Union, 1199 SEIU, at NYU Langone's Medical Center Gerard Cadet questioned why people in their field are not being properly covered.
"Firefighters and police are not expected to work without protective equipment," Cadet said. "Why should healthcare workers be denied strong health benefits?"
Cadet said that this question was the center of the employees' recent protest. Although the medical center is in a contract with 1199 SEIU until 2018, union leaders have urged NYU Langone to reexamine the relationship before then. Employees also wanted to call attention to the hospital's decision to leave the League of Voluntary Hospitals and Homes of New York, which helped ensure employee benefits were equal to the benefits of employees at other hospitals. It served as a cross-employer negotiator for them.
NYU Langone's agreement with the League of Voluntary Hospitals and Homes of New York made sure that Langone employees did not have to pay for health coverage. This was another focus of the recent rally. Currently, the union is in works with the league to maintain this benefit.
Valerie Roker, a paramedic tech at NYU Langone, attended the protest, which she said was very peaceful yet fearful.
"We would most likely have to pay out of pocket into the medical," Roker said. "We really don't have co-pays as it is. I'm sure we won't get certain raises like how we get with the union. Your income is a certain amount, then you have to dish out a certain amount to pay for certain things, and if it's not matching up, then it's a loss."
However, Media Representative for NYU Langone Medical Center Lisa Greiner released a statement on behalf of the center that said there is little rationale to the issues the union is calling attention to.
"There will be no change to the existing contract, which expires in 2018," Greiner said. "So, Local 1199 is incorrectly scaring their members, and our employees, with false claims of loss of benefits. NYU Hospitals Center simply wants to exercise its right to bargain directly in good faith with Local 1199 SEIU and not through an intermediary organization." 
Cadet does not believe that the reasoning for NYU's withdrawal from the League is valid, since he thinks the League is beneficial to workers.
"NYU is referring to a collective bargaining agreement with the League of Voluntary Hospitals and Homes, which has ensured a good working relationship between New York City hospital workers and employers for decades," Cadet said. "Hospital workers' collective unity through the League has ensured strong standards for patient care throughout our city and good, middle-class jobs for New Yorkers. NYU should stay in the League of Voluntary Hospitals, which almost all other major hospitals belong to, so we can ensure quality patient care, good health benefits for caregivers and labor peace."
Email Brooke Jensen at [email protected]