Steinhardt School of Culture, Education and Human Development Commencement '16
It was a musical — and somewhat fishy — morning for the graduating seniors of the Steinhardt School of Culture, Education, and Human Development class of 2016 on Tuesday.
Though Steinhardt is known for offering a wide range of majors, ranging from nutrition to music to media to psychology, all baccalaureates united in Beacon Theatre to honor the time, effort and privilege they had in earning their respective degrees, while keeping in mind the future purpose of their degree in furthering human development.
Dean Dominic Brewer opened the ceremony with a history of the theatre, noting the famous performances hosted in the venue which included the Rolling Stones, Adele and, just last December, Prince. Brewer incorporated lyrics of performers from the theater's iconic history to commemorate the day.
"The Beacon Theatre is also the place where Elvis Costello sang about that brutal moment when you know that college is truly over — that rude awakening that you will all experience this afternoon," Brewer said. " 'Welcome to the working week. Oh, I know it don't thrill you, I hope it don't kill you.' "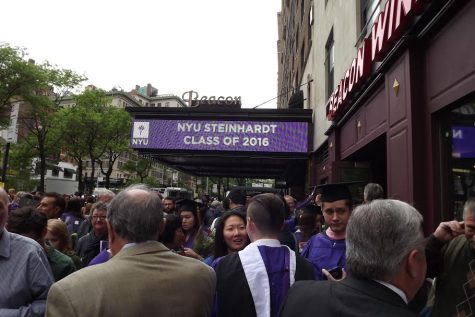 Audrey Deng
Following these remarks, Andrew Hamilton made his first commencement speech as president of the university to the Steinhardt undergraduate students.
"You came to Steinhardt because you want to enrich people's lives," Hamilton said. "Whether it be through education, through music, through art, through health and mental health, or just how we communicate and connect with each other. You, Steinhardt graduates, are unconventionally creative creators. You are interdisciplinary and collaborative."
On behalf of the Steinhardt faculty, Fabrienne Doucet, associate professor of the department of teaching and learning, developed an intricate metaphor about the story of a small fish who, with the help of other small fish, formed the shape of one large fish — the children's story of "Swimmy," by Leo Lionni. Doucet alluded to the power Steinhardt student have in collaboration.
"We, Steinhardt graduates, are a powerful flotilla of small boats in the shape of one giant boat," Doucet said. "And what we do catch is hope."
Graduating senior Destiny Lopez shared a touching personal story about her personal inspiration for getting her college degree, ending the opening exercises with a note from distinguished alumni Danielle D. Butin of the class of 1987, who shared her road to building her nonprofit, the Afya Foundation, a medical supply recovery organization.
Throughout the commencement ceremonies, students and families enjoyed New York-themed performances from the Dancing Educators and the Steinhardt Singers. A performance of "New York, New York," which may under other circumstance have been cliched, became a sentimental and heartwarming waltz dedicated to the city students called home for the past four years.
Tomorrow, students from all colleges will graduate from NYU in Yankee Stadium in a colossal gathering of undergraduates, meeting all together for the final time.
As Doucet — quoting Beyonce — noted during her speech: "I need you. We need you. Okay, Steinhardt? Now let's get in formation."
Email Audrey Deng at [email protected]