Track Splits Team Between Four Competitions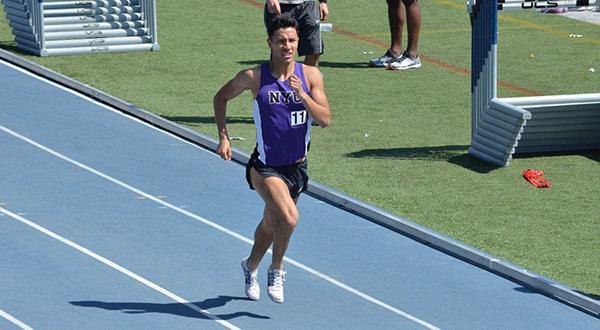 With the team broken down into contingents over the weekend, the men's and women's track and field teams competed in Philadelphia and New Jersey. While some Violets competed at the Penn Relays, other were in action at the College of New Jersey's Lions Invitational.
Men
For the College Men's 4×800-meter College of America Invitational, sophomore Vince Booth, senior Max Avila, junior Curtis Mann and freshman Sohma Kamat competed together in Philadelphia. The group performed well, finishing in 13th place with a time of 7:45.73.
Their teammates were in action elsewhere at the Lions Invitational on Saturday. Sophomore Sam Praveen did exceptionally well, capturing third place in the 3000-meter steeplechase, his best performance of the season. Senior Eddie Cruz-Desintonio claimed ninth in the 1500-meter while freshman Ben Haderle landed in 12th place in his first collegiate attempt in this event. In the 400-meter hurdles, junior Nick Torsitano claimed 26th place. Following right behind him was fellow teammate freshman Daniel Sovich, who came in 34th place. Junior Nick Hespe won in eighth place in the pole vault, and freshman Abhishek Panigrahi placed in 19th place in the discus throw.
Women
A small group representing the women's team competed at the Penn Relays, one of the more popular track events on the East Coast that attracts a number of competitors. Consisting of senior Sarah Sisk, sophomore Ireland Gibson, senior Becky Tulip and junior Wendy He, the group finished 14th in the 4×800-meter in 9:14.06. Sisk was amazed by the amount of attention the event received and was thrilled to be a part of it.
"They announced that the the crowd was around 45,000 people," Sisk said. "By far the biggest crowd any of us had ever run in front of. So being there in itself was something incredible."
Back In New Jersey, junior Simone Cooper accomplished her personal best in the triple jump competition. Fourth place was also in her favor when it came to breaking the 11-meter barrier. With even more success, she placed ninth in the long jump. Senior Danielle Medellin and junior Brianna Yee placed side by side in the triple jump, 22nd and 23rd. And in the pole vault, junior Dana Placentra and senior captain Ilana Brown finished close together, in 16th and 20th.
Next weekend, the Violets will make their way to Lakewood, New Jersey to compete in the Georgian Court University Last Chance Meet on Friday, May 6. While other seasons have already come to a close, the track season will remain active until the end of May.
A version of this article appeared in the May 2 print edition. Email Ashley Arnold at [email protected].