'Butterfly' Remake Pins Audience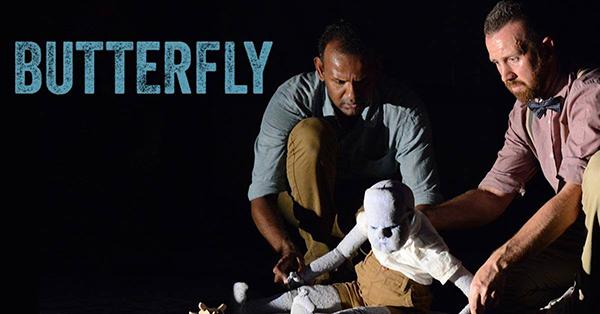 Ramesh Meyyappan's original opera "Butterfly" takes its namesake to heart. The production, the latest from Brits Off Broadway and held in 59E59's Theater C, leaves the audience feeling not unlike one of the play's central props — a beautiful butterfly that has been trapped and pinned to a board, then finally torn apart.
Meyyappan, who wrote, directed and acted in the production, adapted the plot from John Luther Long's short story "Madame Butterfly." The title bears the most resemblance to its forbearer — apart from that the story veers in an entirely different direction. Meyyappan's version centers around a woman named Butterfly (Naomi Livingstone), a gentle, smiling kite-maker. She is visited often by a man, known only as Customer (Chris Alexander), who appears to admire Butterfly's kites, and leaves her gifts in exchange for them. His tender, nervous affection for Butterfly is obvious, but she sweetly declines his advances. Instead, she falls for Nabokov (Meyyappan), a quiet butterfly-catcher who easily ends up with Butterfly in his figurative net.
Thus far, the production is lovingly done, without dialogue but with elegant, beautiful dancing and kite strings that pull on heartstrings. Things grow sour, though, as Customer becomes furiously jealous of Nabokov's relationship with Butterfly and Nabokov displays his own possessive, dominating tendencies. After Butterfly rejects Customer a final time, he, in a culminating fit of rage, rapes her and storms out. Butterfly, violated and sobbing, reaches to the stunned Nabokov, but he simply turns and leaves as well. The scene, for unfathomable effect, is then rewound and acted out again.
The second portion of the play is shorter and follows Butterfly as she, now alone, raises a child of whose parentage we cannot be certain. The child is portrayed by a puppet, operated with admirable deftness by Meyyappan and Alexander jointly. We see Butterfly's struggle to contain his mischief by herself until, in a shocking moment of frustration, she slaps her son after he tore apart the first butterfly Nabokov had given her. The play ends suddenly, as the boy disappears and Butterfly is left alone in her home, surrounded by suddenly flapping butterflies on the shelves behind her, leaving it unknown if the son ever truly existed in the first place.
While the prop design, choreography, acting and music can all be said to have been lovely and enchanting, the same cannot be said of the writing itself. To be sure, not every play needs to be nice and happy, but it is hard to understand why so many plays that are not happy choose to focus on women whose agency is violated in one way or another. What's more, it's simply too hard to justify such brutality — between man and woman and woman and son — once, let alone twice.
"Butterfly," may simply be for literature fans who want to compare the original plot to the new one, but not for anyone who is unwilling to witness a silent story of trauma.
"Butterfly" is running through May 14 at 59E59 Theater at 59 E. 59th St.
A version of this article appeared in the Monday, May 2 print edition. Email Hailey Nuthals at [email protected]