GSOC Passes Referendum in Support of Boycotting Israel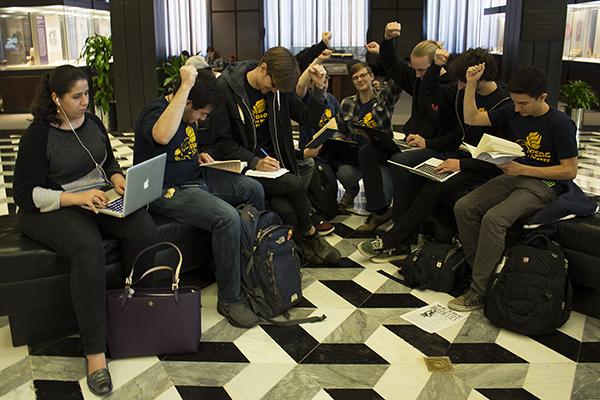 The Graduate Student Organizing Committee passed a referendum last Friday endorsing Boycott, Divestment and Sanctions' measures against the state of Israel by a margin of 33 percent.
The passage of the referendum stirred up controversies on campus and drew criticisms from students on both sides as NYU has a study away site in Tel Aviv, along with a partnership with Tel Aviv University. NYU also has a significant Jewish population, which have conflicted with pro-Palestine groups in the past.
In an email to NYU alumni on Monday, President Andrew Hamilton said NYU is not considering divestment from Israeli-related investments and that the university rejects GSOC's referendum.
"A boycott of Israeli academics and institutions is contrary to our core principles of academic freedom, antithetical to the free exchange of ideas, and at odds with the University's position on this matter, as well as the position of GSOC's parent union," Hamilton said. "Whatever 'pledges' union members may or may not have taken does not free them from their responsibilities as employees of NYU, which rejects this boycott."
The BDS movement — started in 2005 by over 170 Palestinian non-governmental organizations — is a campaign attempting to compel Israel to end occupation on Palestinian territory and Golan Heights by increasing economic and political pressure. NYU's graduate student union is the only graduate student union at a private institute in the U.S. that has considered joining the BDS movement.
Ph.D. candidate Maya Wind, spokeswoman for the GSOC for BDS caucus, wrote in an email that the boycott vote set a precedent for other graduate student unions to join the BDS movement and take a stand for Palestinian rights.
"It is very important to understand that BDS is a political movement targeting the state of Israel and its institutions," Wind said. "This is completely unrelated to Judaism as a religion or to people of Jewish faith or cultural affiliation."
However, students from pro-Israel groups on campus criticized the tactics GSOC members employed over the cause of the campaign. CAS freshman and Realize Israel member James Goldberg said the BDS movement was anti-academic, anti-diplomacy and anti-peace.
"The NYU administration has explicitly stated that they do not support this and that they will never," Goldberg said. " [the BDS movement] shifts all the blame onto Israel, it places all of the blame on one side, and removes any culpability, any diplomatic responsibility from Palestinian authority."
Realize Israel also released a statement calling the charges in the BDS movement unfounded and defamatory.
"That a graduate student union would have such blatant disregard for the facts and that it would vitriolically seek to defame the only Jewish state, should alarm anyone associated with the university as both an academic and upstanding member of society," the statement reads. "Not only is the measure unjust in its defamation of Israel, the only free democracy in the Middle East, but also BDS harms those it cloaks itself as fighting to protect."
CAS freshman Morgan Raum, also a member of Realize Israel, said she worried that the vote set a precedent for other colleges and universities to carry out the same actions on their campuses.
"If one spends any time researching, even a short write up of modern Israeli history, he or she would see how unfounded BDS is," Raum said.
Similar referendums to academically boycott Israel were passed last year at the University of California system. However, the graduate student union's parent organization granted an appeal to anti-BDS members of the student union in December, effectively nullifying the vote to divest.
CORRECTION: A previous version of this article included quotes and information not meant for attribution. The article has been updated to remove those quotes. 
Email Yulin Lou at [email protected].