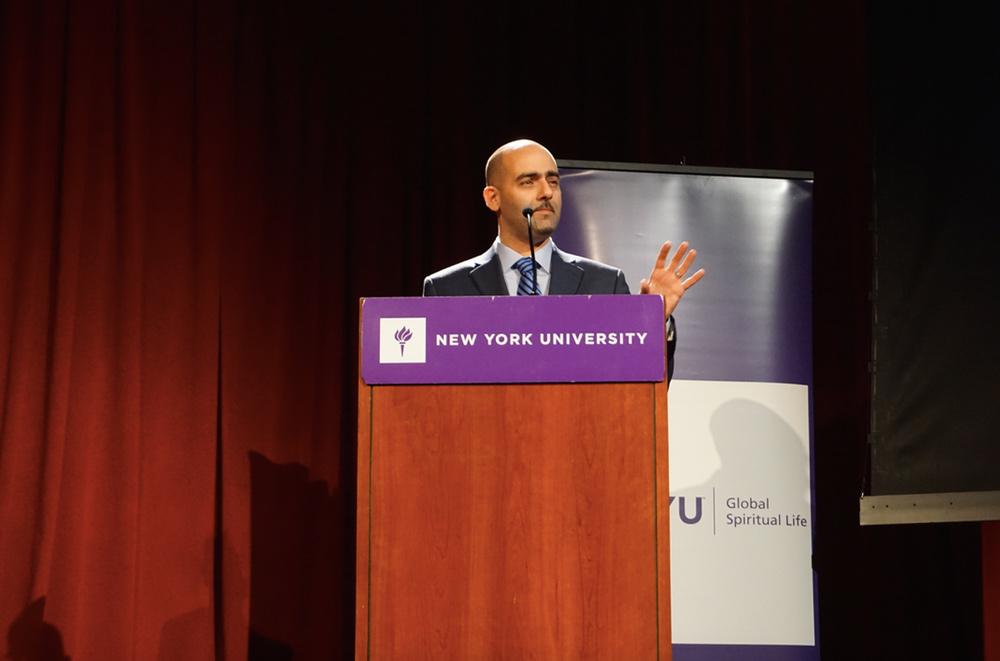 As part of Syrian Refugee Awareness Week, Sarab Al-Jijakli, Founding National President of the Network of Arab American Professionals, came to Kimmel to inform students about the Syrian refugee crisis on Tuesday evening
Syria has experienced civil unrest since 2011 and as of 2015, more than 250,000 people have been displaced. The Syrian refugee crisis became an international concern last year as people fled to Turkey and Western Europe to escape the violence.
"The purpose of the discussion was really to get at the root of the issue and put aside all the competing narratives to really understand what's happening in the ground of Syria, how we got to this place and what were the contributing factors to the catastrophe," Al-Jijakli said.
Al-Jijakli said the crisis was caused by Syria's militarization and tendency to suppress dissent.
Students who attended the event expressed their interest in learning more about the conflict. Gallatin freshman Sara Nason said she appreciated NYU's willingness to discuss the Syrian refugee crisis.
"I'm really passionate about refugee crises and conflicts where people's voices aren't heard, so I think it's interesting that NYU has a platform for us to learn about the unheard voices of the world," Nason said.
Among the organizers were Gallatin senior Madeline Dolgin, LS sophomore Selin Yurtsever and Stern senior Katerina Rodriguez. Yurtsever said one of the main goals of the event was to inform students at NYU about the refugee crisis and to foster a desire to act.
"We as students have to not only acknowledge that, but also act on it," Yurtsever said. "This event is the first step for students to understand how difficult this is for [Syrian refugees]."
Al-Jijakli said he enjoyed the crowd and the lively discussion that took place.
"It was a great dialogue, great back and forth, I think the crowd was very much into the conversation, a very educated crowd in that regard, and basically had a lot of insightful things to ask about," Al-Jijakli said.
The organizers hope to foster collaboration among the NYU community through Friday's upcoming demonstration in Washington Square Park and continue to bring awareness to the refugee crisis.
"Yes, this is a week, but this is also a call to action, to say 'it's more than just this week, it's about continuing to educate yourself, continuing to make the community around you aware," Rodriguez said. "For us it's really about not just having these conversations once, but continuing the conversation further, and just standing in solidarity with everything that's happening and creating a community behind that."  
Email Maria Torres at [email protected]