Candidates Doze in City That Never Sleeps
As the New York primary approaches, candidates are revving up their campaigns in hopes of capturing as many delegates as possible on April 19. The Republican Party will allocate its 95 delegates proportionally based on candidate vote share, and the Democratic Party will do the same with its 291 delegates. With such a large delegate share at stake, candidates are vying for a chance to connect with voters and make an impact in the 2016 presidential race. As the remaining two Democratic and three GOP candidates took to the five boroughs this past week, it became clear that the Big Apple can trip even them up.
Hillary Clinton
As a representative of New York for eight years, many expected Clinton to be familiar with the subway system. However, a viral video showed she had clearly lost her touch as it took her five attempts to swipe through a turnstile.
Congresswoman Michelle Bachmann responded to the incident by creating a video of herself showing off her expert public transportation skills.
I showed Hillary how to use the subway in New York City today. pic.twitter.com/8ZJPvMYBDe

— Michele Bachmann (@MicheleBachmann) April 8, 2016
Bernie Sanders
Brooklyn native Bernie Sanders was primed to excite voters in his home state. However, the Vermont senator was also out of touch with the inner workings of the subway system. In an interview with the New York Daily News, Sanders mistakenly thought tokens were still used in lieu of themodern MetroCard.
Although Sanders might have lost some street-cred, millennials "feeling the Bern" won't let that slip-up get in the way of his upcoming rally in Washington Square Park.
Ted Cruz
As Cruz falls behind by nearly 34 points leading up to the New York primary, the Texas senator has some major ground to cover if he has any hope of catching up to front-runner Donald Trump. Unfortunately, Cruz's campaigning efforts fell flat as he traveled from the Bronx to Brooklyn to show off his "New York values."
The senator had little luck engaging a group of young voters at Bronx Lighthouse College Preparatory Academy, as he was forced to cancel an event after students threatened to walk out if their principal allowed him to make an appearance on campus.
In addition, Cruz appeared out of place during his visit to a matzo factory in the heart of Brooklyn's large Hasidic Jewish community, where he sang a popular Passover song, "Dayenu," with participants.
Donald Trump
Meanwhile Trump, the supposed embodiment of "New York values," still holds a solid lead over his GOP competition after former New York City Mayor Rudy Giuliani announced he would vote for him.
The Queens native will surely be one to watch as the billionaire has taken time off from the New York campaign trail this past weekend to cater to his business ventures.
John Kasich
Kasich also tried to appeal to New York's diverse communities by treating his staff to a meal at a local Italian restaurant in Brooklyn. Dubbed the "Kasich special," the Ohio governor ordered plate after plate of specialty dishes not found on the deli's regular menu.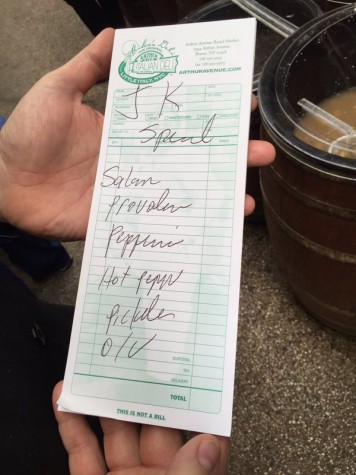 A version of this story appeared in the Monday, April 21 print issue. Email Lexi Faunce at [email protected].