BREAKING: Taxi Hits Woman in Front of Weinstein
Update – 2:00 p.m.
The NYPD told WSN that the woman remains in critical condition but is currently stable.
Original article
On Thursday at 10:50 a.m., a taxi ran over a middle-aged woman at the intersection of University Place and 8th Street due to a brake failure, according to witnesses on the scene.  The fire department was the first responder and evacuated her immediately.
NYU College of Dentistry professor John Evans saw the entire incident as he prepared to cross University Place on 8th Street.
"The woman was facing away from the cab, and when it hit her, she went up in the air and the cab basically pinned her against the wall," Evans said. "I couldn't see any amputations or obvious hemorrhaging, but there should be massive internal injuries."
He said the cab stopped right before Washington Mews, and the victim faced the wall while stuck between the stucco and cab. They gave her chest compressions on the spot.
A Tisch sophomore, who preferred not to be named, also described the entire incident as she saw it while walked to class.
"All I heard was a loud crash — or scrape — which was the car. It went up on the sidewalk and it hit and shattered a clay pot," she said. "All I saw was her folding under the car."
The NYPD subsequently secured University Place from 8th street to Washington Mews.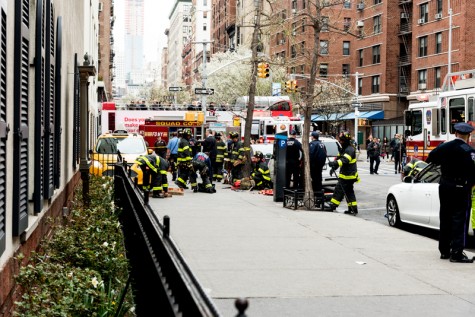 Hannah Shulman
NYU Campus Cable Ed Eccles said there was a loud noise, but when he saw the scene, it did not make sense.
"I saw her lifted out of the car, and it looked like they ran her over," Eccles said.  "Both are one way streets, so I don't know why the taxi would be going this way on University Place."
At 12:40 p.m., the NYPD reported that the woman is in critical condition.
Email Diamond Naga Siu at [email protected]