Standing on Your Head: The Journey of Sam Daley
Sports are never more beautiful than when they hang in the balance. To the fan, they are never more compelling than when one team's lead is razor thin and the other team is in a frenzy to erase that deficit. To the player, they are never more momentous than when the margin of error between two teams is so slight that the bounce of a ball or the blink of an eye means the difference between winning and losing. It can make a matter of athletic life and death seem like a matter of actual life and death. The two are not so different to an athlete who bleeds their heart and soul into their sport.  
That's why, sitting in his home in Bow, New Hampshire, the first thing that NYU hockey goaltender Sam Daley spoke into the phone after being told he had a potentially life threatening brain tumor was, "How quickly am I going to be able to get back onto the ice?"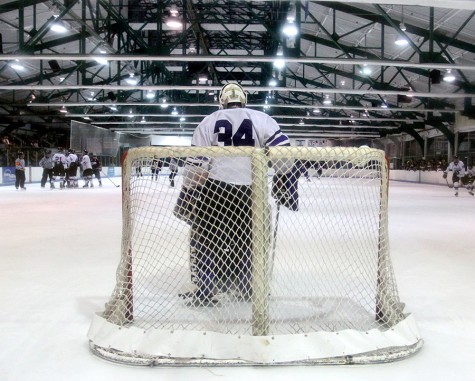 It all started in the fall of 2014 when Daley began feeling occasional numbness in his foot and hand throughout his daily activity, akin to when you fall asleep on your arm for too long. He ignored it for a bit, not wanting to make a big deal of nothing. As it persisted, he grew worried, so he made an appointment to see a neurologist back home in New Hampshire in the late fall. Nothing came of it.
"I think when you see someone like me that's in college and otherwise has great health, it's kind of hard for doctors to assume that it could be something very serious."

Daley's problem persisted. He scheduled a follow-up appointment with the same neurologist, who was surprised to see Daley back in his office. It was now winter break, and the numbness had not subsided. The final step to knowing for sure if something was seriously wrong was to schedule an MRI, but Daley's neurologist was hesitant. MRIs are incredibly expensive, and not often handed out to relatively healthy young adults. Daley and his family insisted.
"I went for the MRI and I think it was later that night that they called me and they said 'We found this huge tumor in your head that we're going to have to take out,'" Daley said. "This was December 31, and I met with my surgeon the next day."
One day he was the lynchpin of a solid NYU hockey team looking to make a second-half push. The very next he was a 21-year-old kid in Dr. Brian Nahed's Massachusetts General office, being told that he needed to act quickly, because tumors like this just don't happen very often to people under the age of 40. Throughout that week, the news spread to Daley's coaches and teammates. It was only a matter of days before Head Coach Chris Cosentino was on the phone with Daley.
"He was telling me the same thing," Daley said. "We face tests like this — well not like this, but — all the time in hockey. We always talk about what you have to do to succeed, and what you have to do to bounce back, and it's pretty much the same thing, the same mindset."
So Daley soldiered on, with the full support of his teammates. The Violets scrambled from all over the country — as they were on winter break — to pull together a video of each team member wishing him luck. Manager Brendan Gutenschwager edited it together just in time so that he could see it before he went under the knife.
The surgery went about as well as hacking a chunk of skull out of a human head can. Daley was on his way to recovery within weeks, and even amidst all the uncertainty, he only missed a week of school. He wasn't with the team for their first game after break, but their next game was close enough to his house that he could easily make the trip.
"I'll never forget that first time we saw him after the surgery, it was up in UMass," Cosentino said. "The second he walked into the rink, he had that smile on his face, and it was like 'alright, everything's gonna be fine.' Once we saw that smile we knew everything was going to be fine, because it was infectious."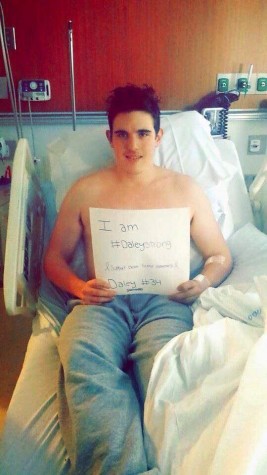 As he eased back into school, Daley realized that the hardest part was just beginning. The whirlwind had passed, and now he was sitting in the eye of the storm, staring down a long semester of rehab and waiting for his head to heal. It was unclear whether he would ever lace up and set foot on the ice again. After a couple months of rapid recovery, his doctor had told him that, provided things continued on their stellar pace, he had an outside shot of returning for the 2015 playoffs. Daley took that and ran with it, assuming that with enough will and determination, nothing could keep him from returning to his team. But his playoff pipe dream was dashed when his doctor denied his return at the end of the season.
That was the low point for Daley. Even though he knew in the back of his mind that it was somewhat unrealistic for him to be able to return to the ice in 2015, that had been what was motivating him throughout the recovery process — the prospect of getting back between the pipes to help his team.
"To have worked and to have hoped to have played for all that time after my surgery, I was always hoping to get out there before the end of the season," Daley said. "To get definitively shut down for the rest of the year was probably the toughest part about the whole process mentally and emotionally."
So Daley sat, sidelined, for the most monumental season in NYU ice hockey history. The team went on to win its first ever National Championship, and he was in the stands as freshman goaltender Jack Nebe stood tall in front of the net in his place.
"For me, he played a big supporting role," Nebe said. "We'd chat a lot after games, and he'd become a second set of eyes for me, which was a big help. I think that's why I ended up rooming with him [at Nationals]."
Summer came around, and the timetable for Daley's return began to get tighter and tighter. 2016 was the end of his senior year, his last chance to play hockey at the collegiate level and probably his last chance to play at all. It was up to him whether he wanted to risk his health for his senior season.
But Daley, even in that slight post-anesthesia inebriation, had decided what he wanted to do the moment he woke up from surgery. He never once faltered on wanting to come back and play. He spent hours and hours on the ice over the summer, working on his skills and making sure he'd be sharp if he were ever cleared.
"I'll never forget the first time Sam practiced, he made that first save once that first guy came in to shoot on him," Cosentino said. "Once he made the first save I almost wanted to stop practice and give the kid a hug."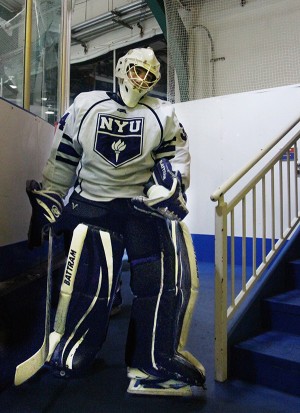 His first game back was a 5-4 win over Rensselaer Polytechnic Institute. Daley posted a 9-3 record in 2016 to go along with a career-high .930 save percentage. He didn't miss a single game due to injury, and his focus and consistency earned him the locker room nickname "Chief." He became the physical embodiment of the team's 2016 motto — "Adversity is just a test" — and he led them to the top seed in regionals at the National Tournament, where they went on to lose in overtime of the group stage, despite excellent play from Daley in net.
Throughout the process, he remained as cool, calm and collected off the ice as he had always been on it. He had his best statistical season as a Violet. And though he went through incredible adversity, he hardly let it change the way he looked at life, leadership and hockey.
"That's what made it such a special thing with Sam," Cosentino said. "He didn't change at all. It probably sounds ridiculous to say, but it's so true. He didn't change anything about his attitude toward life, or the way he approached things. He literally approached it like he would getting ready for a game."
If anything, Daley became calmer, given a new perspective on how easily his hockey career could be taken away and how valuable the game, which he had been playing since childhood, had grown to become in his life.
Daley's NYU hockey career is now over. He is as decorated a four-year player as just about anyone can be, despite being dealt one of the most difficult hands. He experienced some of the highest of highs in net and along with his team, and some of the lowest of lows out of it. But through it all, he remained unchanged.
"I feel like a lot of people who go through certain things have talked about how much something changed them," Daley said. I think it's a little exaggerated. I think you kind of deal with what you have to deal with at that time and you just take it one step at a time and just work through it. Once you start doing all these crazy, unwieldy things, that's when things start to go wrong. You have a certain way that works, and once you start getting away from that, that's when you start having issues."
Additional video footage shot by Shawn Paik.
Email Bobby Wagner at [email protected].