President Hamilton Addresses IEC, Affordability in Second Town Hall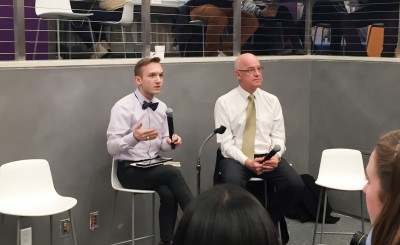 NYU President Hamilton held the second town hall of his presidency this Thursday. While the first meeting focused on affordability and tuition, this meeting addressed a variety of student concerns such as diversity and the incoming class of 2020.
Liberal Studies sophomore Amy Shih said she attended the town hall to see how President Hamilton would react to pressing student issues.
"I wanted to get to know Andy a little more, and to see him talk about whatever issues were brought up," Shih said.  
Likewise, Hamilton said that these town halls act as a forum of learning as well as a way to better understand the student body.
"There is a lot to get to know, and one of the most important groups that I need to hear from are the students, so I look forward to today's town hall," Hamilton said.
The hall was structured in two stages: the first was a structured dialogue that discussed different aspects of the undergraduate academic experience. Student representatives Anushua Choudhury, a CAS senior, and SPS junior Hjordys Perez Matos participated in this dialogue, sharing their personal stories and the challenges they faced over their college careers.
"NYU does a wonderful job at bringing in the nontraditional student," Matos said. "There was a scholarship available for me, there was opportunity available here. It's when we are here that we wonder, how does the university integrate that student into the greater NYU community?"
President Hamilton addressed the issue of finding community and stated that activities that transcended school-based focuses were vital to creating a community within the university.
The event then moved on to the second stage, opening the floor to questions from the audience, which included graduate students and club representatives. Among them was Latinos Unidos Con Honor y Amistad President CAS sophomore Juan Calero, who raised a concern regarding students who could not afford tuition at NYU.
"This narrative of being able to do what you want to do is a very privileged narrative," Calero said. "Not everyone is allowed to follow their dreams because of the financial situation that they find themselves in."
In response, President Hamilton acknowledged that affordability is a great problem within NYU that needs to be addressed.
"We have a deep concern and knowledge for the wild ails of society, and we must have that concern and knowledge," Hamilton said. "One of the ways we tackle those is by educating students from all backgrounds."
Hamilton also answered some questions that were posted online by students, which ranged in topics from improvements to the quality of classes to efforts to prevent sexual harassment.
Another presence in the hall was the Incarceration to Education Coalition, whose representative Alexa Greene questioned Hamilton's refusal to agree to a public meeting this Friday regarding the IEC's "Ban the Box" initiative.
Addressing the IEC's concerns, Hamilton said he is looking forward to meeting with the IEC, and that the administration is picking a date to hold a conversation with the group.
As the hall neared its end, student body president and Gallatin junior Michael Hengerer summed up the goals of this town hall.
"I thought it went really well," Hengerer said. "I'm glad that we had that really focused conversation on academics. We left enough time for a lot of different students to bring up very different concerns."
The hall culminated as Hamilton thanked students for voicing their concerns to foster improvement within the university.
Email Maria Torres at [email protected].