UPDATE: Incarceration to Education Coalition Sits-In At Kimmel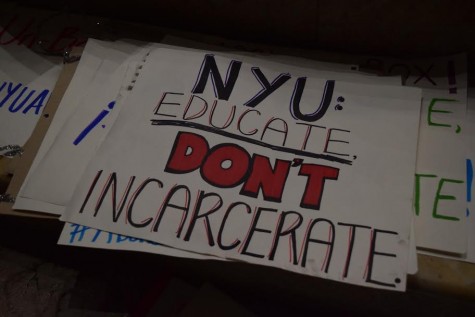 The Incarceration to Education Coalition's occupation of the NYU Kimmel Center, that started Friday evening, is underway. Students from the IEC, Divest and Student Labor Action Movement plan to stay overnight on the Kimmel grand staircase as the administration failed to meet their demands of condemning the box.
Senior Vice President of Student Affairs Marc Wais addressed the crowd as the building closed to the public. Wais said the university had not yet determined whether or not they will pursue disciplinary action against those remaining in the building.
"We want to be as respectful and as flexible as possible when dealing with this occupation," Wais said. "But like I said before, this building closes at midnight, and we will be shutting it down at midnight. NYU students that choose to stay in the building could potentially face disciplinary action for trespassing."
In addition, Wais said the university had made three ground rules for students remaining in Kimmel throughout the duration of the occupation.
First, students were limited to the first floor of Kimmel and could not go past the turnstiles on the ground level. Second, if students leave the building, they will not be allowed to return, but will be welcomed back tomorrow when the building re-opens. Third, students were required to identify themselves to security personnel with an NYU ID.
At the time of publication, twenty-two students remained inside the building to protest while others stood outside chanting in solidarity.
Additional reporting by Anne Cruz and Diamond Naga Siu. Email Lexi Faunce at [email protected].