Danny DeVito Comes to NYU, Has Students Feeling the Bern
Danny DeVito and Susan Sarandon were #feelingthebern at NYU on Thursday, when they stood in Stern plaza while helping people register to vote for Bernie Sanders.

In between taking photos with people and cracking jokes, he discussed why he supports Sanders and what the future would look like with his presidency.
Many NYU students, such as Tisch freshman Austin Hall, went to see the celebrities while supporting Sanders. His friend Marcel Werder told him about the event, and he immediately decided to attend.
"I like Danny DeVito because I've been watching his show It's Always Sunny in Philadelphia," Hall said. "And I came out because I feel that Sanders is speaking to a lot of people in my generation, and I think it's very telling that people are still excited about him."
Not so much registering people as simply drawing a crowd. But hey, whatever works (which it seems to be). pic.twitter.com/qSYNQDuyzz

— Alex Bazeley (@a_bazeley) March 24, 2016
While many people surrounded DeVito for Instagram-worthy shots, the other half of the crowd swarmed Sarandon, who believes that people should vote for Sanders if they want to see active change in many political issues ranging from healthcare to the future of the planet.
"If you care about environment, if you care about education, the only way anything is going to change is if there's somebody who hasn't already been bought by Monsanto and fracking and Super PACs and Wall Street," Sarandon said. "He's the only guy to come along, and I don't think there'll be anyone else in a long time."
After people completed registration forms, she helped check to ensure they filled the forms out correctly, and to reward many who finished their applications, she allowed them to take pictures with her.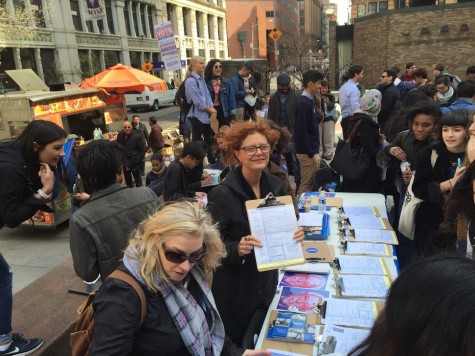 Justin Bartha, famous for his roles in "The Hangover" and "National Treasure" movies, made an appearance as well.
CAS freshman Valeria Samame loves all the celebrities who attended as well as Sanders, so she attended the rally with her friend. Although she cannot vote, since she hails from Peru, she hopes he wins the election.
"I was with my friend and somebody told him that Danny DeVito was coming for a Bernie rally," said Samame. "I like that DeVito endorses Bernie and even though he has to take a millions of photos with students I think it's great that he's still willing to do this."
"I feel like he's a nonviolent individual and he's been doing it for many many years," DeVito said of his support for Sanders. "He's aware of all the people's problems."
I asked Danny DeVito why college students like myself should vote for Bernie Sanders. Here's his pitch: pic.twitter.com/Q5bouKFsJ8

— Alex Bazeley (@a_bazeley) March 24, 2016
Additional reporting by Alex Bazeley. Email Diamond Naga Siu at [email protected]