From Spring Break to Coffee Break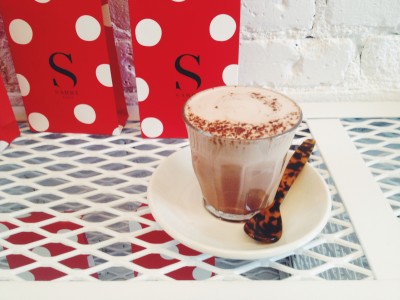 The stress of midterms and relaxation of spring break may have come to an end, but class is now back in session and homework is on the rise. Soon, Bobst will be calling your name with its alluring fifth-floor group study rooms and its oh-so-late hours. Don't let yourself fall into the trap of taking trips between the crowded Starbucks at Faye's and our lovely library. Instead, study at the source of caffeine and explore all of the wonderful caffeine-filled and study-friendly coffee shops in our neighborhood, the best of which are listed below.
The Coffee Project
Located at 239 E 5th St., The Coffee Project accepts cash, cards and Apple Pay. Free WiFi.
The Coffee Project is a quaint shop that is perfect for any coffee aficionado who is looking to get some light work done. It is located close to main campus, near Cooper Union. The coffee quality is unbelievable. Their beans are roasted in Red Hook, Brooklyn. Their specialties include The Deconstructed Latte — an expertly presented drink that highlights their artisanal espresso and milk and a sampler of their Nitro Cold Brew. The shop itself is a bit small, with only four tables and a bar. This is the ideal location for anyone who wants to enjoy the highest possible quality of coffee and catch up on their reading while doing so.
Toby's Estate
Located at 44 Charles St, Toby's Estate accepts cash and cards. Free but slow WiFi.
This cozy West Village cafe and brew parlor is well known for its high quality beans and
photogenic decor. The cafe boasts a fair amount of seating, with enough tables and bar-style spots to earn it a work-friendly rating. Because the tables are merely medium-sized at best, it is recommended for mostly reading/writing. Toby's Estate is ready for workers who are in for the long-haul, as it contains many delicious lunch options and a bathroom. If you want a guaranteed study spot with your coffee, head to Toby's.
Grounded
Located at 28 Jane St., Grounded accepts cash and cards. Free WiFi.
This earthy, vegetarian spot is as relaxing as NYC coffee shops can get. Surrounded by leafy plants, the huge study spaces in Grounded are almost too inviting. While the WiFi may not be the speediest, Grounded makes up for it with its many tables, couches and outlets. This is a spot for the camping-prone studier who likes to spend continuous hours at one location hard at work. Grounded will keep you caffeinated and well-fed no matter what class work you have to trudge through.
Maman
Located at 239 Centre St., Maman accepts cash and cards. Free WiFi with purchase.
Maman is the French SoHo bakery you didn't know you needed. Decked out in string lights, distressed wood and plants, the store feels naturally homey. The back room of Maman has a huge amount of space for group study or the world's most spread-out solo worker. Their food is reminiscent of cooking from Southern France, such as quiche and nutella beignets and pairs perfectly with their Toby's Estate brand coffee. Head to Maman to tackle your most pressing academic crises with a stylish latte in hand.
Email Paris Martineau at [email protected].