SLAM Protests to Rename Moelis Institute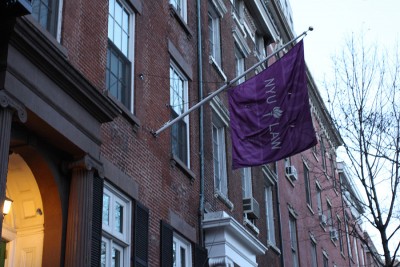 The NYU Student Labor Action Movement protested in front of Bobst library on Friday, demanding the university rename the Moelis Institute for Affordable Housing Policy and stand in solidarity with city workers against gentrification.
Protesters faced considerable push-back from NYU security officers after the workers were locked out of Wilf Hall, home to NYU's Furman Center and the Moelis Institute, while attempting to speak with one of their representatives. While students with NYU IDs were allowed to enter the building, community members remained outside chanting, and one individual physically confronted an officer.
Community members rallied around the movement as the New York Daily News reported in February that two of Mayor Bill de Blasio's appointees in charge of his affordable housing plan have ties to developer Ron Moelis, whom the institute is named after.
In fact, Alicia Glen, the deputy mayor for housing and economic development, sat on the board of the Moelis institute. In addition, the city's head of the Department of Housing Preservation and Development Vicki Been ran the Furman Institute for Real Estate and Urban Policy at NYU, a program to which the Moelis Institute donated $2 million.
The institute serves as a research center at NYU that gathers data around New York City to develop effective affordable housing solutions in low-income communities. However, SLAM members and union organizers said because de Blasio's appointees are affiliated with the center, this creates a conflict of interest that will negatively impact neighborhoods that predominantly consist of people of color.
Gallatin senior and SLAM member Robert Ascherman said it was no surprise that the university supports an institute that furthers the goals of developers that pay their workers low wages. Ascherman also alluded to the fact that NYU has opposed efforts to pay its own student workers $15 an hour.
"NYU likes to claim that it is in and of the city," Ascherman said. "I don't know what in and of the city means to the people who work on the 12th floor and run the university, but destroying the city, gentrifying the city and backing union busters is not in and of the city."
Although SLAM was unable to speak with a representative of the institute, LS freshman Grace Klein said the NYU community should not give up their fight as gentrification is a major problem in New York City as housing prices continue
to skyrocket.
"If NYU is supposedly in the city and for the city, how can the administration talk about Ron Moelis as a champion for affordable housing without realizing he is using the city median rather than the neighborhood median?" Klein said. "I think that's a huge problem for a school that claims it is on the forefront of progressive issues."
SLAM plans to issue a letter to the university and the Moelis Institute requesting the center to change its name to show support for low-income communities across the city.
A version of this article appeared in the Monday, March 7 print edition.  Email Lexi Faunce at [email protected]