Off the Ice: Talking With the Hockey Team's Saving Grace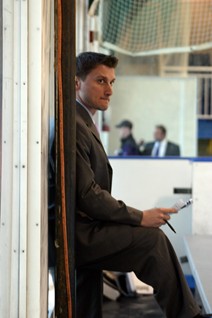 While the NYU men's hockey team was winding down the regular season to secure a top spot prior to ACHA Nationals, Head Coach Chris Cosentino, as he often does, reflected on what gives him the motivation to lead his squad.
Cosentino's faint accent is an indicator of his New York upbringing. His involvement with hockey began relatively late at the age of nine, but it didn't matter as Cosentino took to the sport like a duck to water.
"I was very athletic and I loved the sport the second I stepped onto the ice," Cosentino said. "I got pretty good pretty fast, maybe a little too fast."
Cosentino ascended the hockey ranks smoothly for about five years before things stopped going his way. His playing career was cut short by an unfortunate onslaught of bad timing and luck, with injuries and a folded Division I program at Iona College plaguing him. It is a memory that has never quite left him, and he never lets the team forget it.
"That's always in the back of my mind here at NYU," Cosentino said. "It's something that I always remind my players — be appreciative of what you've got, 'cause one day it could all be taken away from you."
Cosentino then forayed into coaching, and after a few successful years where he distinguished himself as a coach for the New York Apple Core and an assistant for a few college teams, an opportunity at NYU popped up.
"As a New York City guy, I really saw some potential in this program," Cosentino said. "It was one of those situations where I knew, hey, I think I can help here and do something here and really make it something special."
Hauling in last year's championship banner was a testament to that special quality Cosentino saw from the beginning.
But of course, NYU is known for its less-than-stellar athletic track record. Prior to Cosentino's arrival for the 2010-11 season, the team struggled with a combined 14-38 record over the two years before — including a one-win 2008-09 season. The implications of this abysmal history were on many of Cosentino's colleagues' minds, with many telling him he was committing career suicide, but for Cosentino, it was a gut-feeling kind of decision.  
"I think people don't understand it unless they're in my shoes and they see how good this program is," Cosentino said. "I say it to our guys all the time how jealous I am of them."
If all goes well, that jealousy just might end up running a little deeper. The Violets' success certainly wasn't bred overnight, and is a testament to the time Cosentino took in reflecting on the game.
"It took me a long time as a coach to win a championship, and I know how hard it is to win," Cosentino said. "It wasn't until the past few years where I really looked at the mental aspect of the game: the mindset of the game, how important it is for players to be willing and able to adjust to any situation."
Skilled hockey players are essential of course, but there is more to a winning team than physicality and great dekes.
"You need to have talent to win, but it's when your most talented guys are the hardest working guys on the team, that's when you know you've got something special," he said.
Cosentino's team is about more than just hockey. It's about quality guys working towards one common goal year after year.
"It's about getting the right people involved, which we have, and NYU makes my job easier, because it is such a hard school to get into," Cosentino said.
The connection between Cosentino and his players is essential. Without an honest relationship, the team wouldn't respond any better on the ice than off it.
"If I don't know you as a person, there's no way I'm gonna get across to you as a hockey coach," he said.
It's been a process, but Cosentino has shifted gears to focus on the game's mental side.
"That's the thing I've learned over the years, it's got to be that combination of talent and hard work," Cosentino said. "I think as a young coach when I first started, I definitely overlooked the mindset of the game and how important that is to building a team and building a championship winning team."
His road to discovering success has made him something of a hot commodity, but Cosentino insists he's here for the long-haul.
"Every summer I'll get a few phone calls, here and there, to either coach another college or coach in juniors but none of them ever really seem right," Cosentino said. "I've turned down some pretty good opportunities, I've made it no secret. It is my goal to take this program as high as I can go and bring NCAA hockey to New York City and NYU."
Email Rachel Ruecker at [email protected].