To the Operating Table and Back Again: Marshall Kramsky's Tommy John Recovery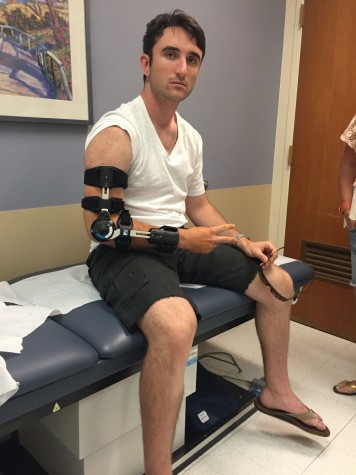 Tommy John surgery is so common in baseball these days it's hard to remember a time without it. But Violets sophomore pitcher Marshall Kramsky, who is also a self-proclaimed baseball trivia expert, is thankful every day he can throw a ball. This past offseason, the righty was the first player in the history of the NYU varsity baseball program to have ever received the surgery.
"If this was 1973, I wouldn't be able to play again," Kramsky said.
On May 16, 1974, NYU's varsity baseball team was trounced 13-7 by Princeton, a fitting conclusion to a winless season and what would be the final game for over 40 years. Four months later, Dodgers pitcher Tommy John went under the knife to repair a torn elbow ligament as Dr. Frank Jobe performed for the first time what is now a common procedure.
Kramsky has loved sports since he was old enough to stand up and hold a bat. His baby pictures feature him in gear from his favorite team — the New York Mets. From a young age he had a knack for baseball, eventually playing on the Marlboro High School varsity squad. Originally a position player, Kramsky's high school coaches were more interested in his exceptional arm strength.
"I came into high school and I threw really hard, so they said 'you need to pitch too,'" Kramsky said.
After moving from third to first base to prevent further stress on his arm, Kramsky used his low to mid-80s fastball and curveball to establish himself as one of the team's best pitchers. With junior year upon him and college scouts starting to take notice, he looked to impress by trying out for the Maccabiah Games, an international competition of Jewish athletes that has seen the likes of gold medalist swimmer Mark Spitz. Kramsky hoped to be a member of that prestigious list.
Everything seemed fine initially, as Kramsky's dynamic hitting and pitching made him look like a lock to compete for Team USA. But on the mound, things quickly unraveled.
"All of a sudden I felt a pop in my arm," he said. Losing 10 mph on his fastball in just two pitches, an alarmed Kramsky was determined to find out what was causing the soreness and intense tingling in his fingers. After several doctors misdiagnosed him, Kramsky consulted one of the nation's best orthopedic surgeons.
At Columbia-Presbyterian Hospital, Dr. Christopher S. Ahmad, Head Team Physician for the New York Yankees and New York City Football Club, finally spotted the problem — Kramsky had a partially torn ulnar collateral ligament in his arm. Since Kramsky wanted to play in college, Dr. Ahmad suggested platelet-rich plasma injections, in which blood is removed from the body, enriched and placed back in the body to speed up the healing process. It worked, but Kramsky would prefer never to do it again.
"That was one of the most painful things I've ever done in my life," he said.
With a rejuvenated arm, Kramsky returned to the mound his senior year and picked up where he left off, catching the attention of several schools, including NYU. Intrigued by the team's upcoming rebirth in the spring of 2015, the decision was easy.
"NYU was my number one the whole way," he said. "It was like a no brainer, being a freshman knowing I could play."
Kramsky came to New York City with high hopes — a member of a fresh new team of young talent. He was a starter early in the season, but his velocity gradually dwindled. Rather than a tingling sensation, Kramsky now felt a throbbing pain that enveloped his elbow. Though he could still get batters out with his breaking ball, he knew it was time to go back to Dr. Ahmad. This time, the prognosis was a shock.
"He goes, oh Marshall, you have no UCL left in your arm."
Tommy John surgery was now not just a matter of getting back in the game, but living a practical life. With an estimated 12-month recovery time, Kramsky wanted to get the surgery as quickly as possible. In May 2015, soon after he finished an especially painful handwritten final exam, he was in the operating room.
The surgery was successful, but then it was time for the most grueling part of the process — physical therapy. Like so many others, Kramsky soon realized the mental toll it would take on him.
"I took a stress ball, squeezed it 20 times, done," he said. "I came home that day ready to scream."
Dejected but not ready to give up, Kramsky continued the tedious process, doing band work, light dumbbell curls and other exercises to recover. Finally in September, his range of motion was restored to its entirety. With that hurdle cleared, it was time to build up his shoulder strength. With the help of the Violets' sophomore closer Matthew Millus, Kramsky is now back to pitching off of the mound and plans to return in April after a 10-month recovery, just in time for NYU's second half of the season. His fastball remains in the low 70s, but he hopes to raise it 10 mph in the next eight weeks. The team's head coach, Doug Kimbler, sees Kramsky as an important piece moving forward.
"Marshall has proven that he is a team leader even though he has had Tommy John Surgery," Kimbler said. "He has proven over and over that he is looked up to as a teammate."
Though the surgery has given his baseball career new life, Kramsky is strongly opposed to getting the surgery preemptively.
"You get Tommy John when you have to, because people don't realize how much it sucks," he said. "This is the most difficult thing I've ever gone through in my life."
Kramsky is enjoying the ride back to the mound for now, but has greater ambitions in the future. A media, culture and communication major in the Steinhardt School of Education, being an anchor on SportsCenter has been his dream job since he was a child. With his life back on track, Kramsky has had time to reflect over his ordeal, finding a new appreciation in life for things both small and large.
"You think you're invincible your whole life and you're really not," he said. "Don't think about where you were, think about where you are now."
Email Michael Thompson at [email protected].