Students Create Drone for Marine Mapping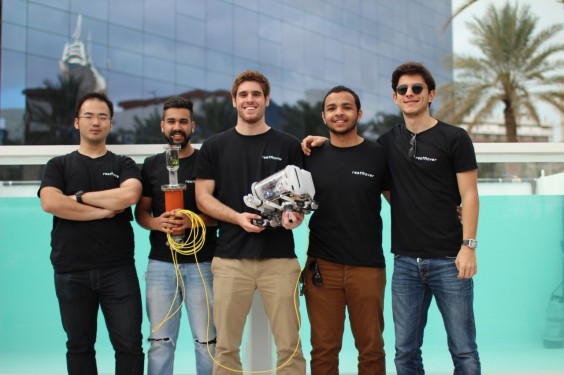 A team of NYU students has been receiving widespread attention with their creation of the reefRover, a low maintenance underwater mapping drone developed at NYU's Abu Dhabi campus. Sophomore Daniel Carelli and his team developed the drone in hopes of facilitating advancement in the field of marine biology from their own contributions and by providing resources for scientists around the world.
NYUAD senior and developmental team member Sien Yang Lee said the reefRover is a submersible drone that autonomously scans marine environments and enables researchers and citizen scientists to collaboratively gather well-structured image data about coral reefs in high volume.
"During a scanning mission, the rover is quickly and easily deployed from a dive boat, and once in the water, it begins to navigate a grid pattern within a geo-fenced perimeter at a fixed distance above the seabed, capturing high-resolution images of consistent scales."
Lee added that the background research and conceptualization for their project began a year ago while the physical testing of the prototype began in November of 2015.
"The reefRover is built on top of the OpenROV platform, an open-source remotely operated underwater vehicle," Lee said. "To that, we added a distance sensor to enable the rover to maintain a constant distance from the seabed, as well as a pair of underwater gimbals (camera mounts with stabilization capabilities) to keep the cameras pointed in the correct orientation while the rover maneuvers."
While the majority of marine habitats still remain a mystery to scientists today, the reefRover team hopes to inspire new research with the introduction of their drone.
"By creating the reefRover, we hope to empower citizen scientists without specialized scientific training to collect research-grade data," said Lee. "With a standardized tool in the hands of enthusiastic community contributors, the volume of high-quality data collected can increase by orders of magnitude."
The team has received a great deal of attention from the press, including recognition from the Middle East Broadcasting Center as well as the organizers for the UAE Drones for Good Award. This award is designed to appreciate the innovative technologies turning civilian drones into practical solutions for improving people's lives today.
CAS junior Kathleen McHugh commented on the award, which previously had not received a great deal of attention in the U.S.
"I'd never heard of the Drones for Good Award, but I think that's such a creative way to get people interested in this field involved in a way that benefits the community as a whole," McHugh said. 
Steinhardt sophomore Chris Gilberts noted the impact that drones can have on the community of college students interested in this sector of the science community.
"It's so cool to see that the team wants to get other students involved in scientific research," Gilberts said. "A lot of people are interested in this field but haven't really had access to resources to study it until now."
A version of this article appeared in the Feb. 16 print edition. Email Kati Garrity at [email protected]