Swimming Hosts NYU Invitational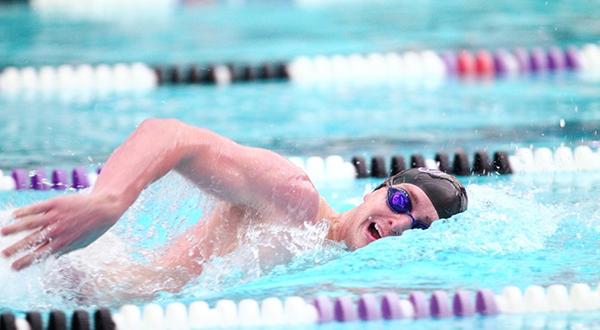 Over the weekend, NYU's men's and women's swimming and diving teams hosted the NYU Invitational at the Palladium Athletic Facility. Rather than the more common meets between schools, the invitational did not keep a score for each participating university, instead focusing on individual performances. The Violets competed with schools within NCAA's Division I which included Lehigh University, Drexel University and Saint Peter's University. Sophomore Austin Palmer did well in both the 500-yard freestyle and the 1,650-yard freestyle, taking fourth place for the 400-yard freestyle relay team, which included senior Frank Bozzi and juniors Steve Turnbull and Peter Schott.
Turnbull seized victory for the 100-yard butterfly and placed second in the 200-yard butterfly. The relay squad for the 200-yard medley consisted of Turnbull, along with junior Andrew Bui and sophomores Avery Soong and Wentao Zou. Junior Jason Bo won the 200-yard individual medley and finished third in both the 200-yard butterfly and the 100-yard butterfly. Sophomore Dylan Adler took third in the one-meter and three-meter diving competitions, while freshman Max Falb placed in fourth for the three-meter competition and fifth place in the one-meter.
Sophomore Brienne Renfurm was victorious the women's 50-yard freestyle and placed third in the 100-yard backstroke. She also participated in the 400-yard freestyle relay team along with freshmen Alex McGurk and Haley Wen and sophomore Isabelle Corgel. Corgel excitedly recounted her experience of the daunting freestyle relay.
"I had a great time swimming in the meet and watching my teammates finish off their seasons in such a positive way," Corgel said. "I'm excited to see what the team can do at our next meet."
Junior diver Ashlie Pankonin won both the one-meter and three-meter competitions.
Freshman Haley Wen was successful in the 500-yard freestyle and also placed second in the 200-yard freestyle and fourth in the 1,650-yard freestyle. For Wen, her success was simply a piece of a larger puzzle.
"I was really happy with my swimming this weekend and proud of how well my teammates did," Wen said. "Everyone raced well and we had some good competition."
The Violets next travel to Rochester, NY for the UAA Championships hosted by the University of Rochester from Wednesday to Saturday, Feb. 17-20.
A version of this article appeared in the Feb. 8 print edition. Email Ashley Arnold at [email protected].