Hockey Testy in Weekend Wins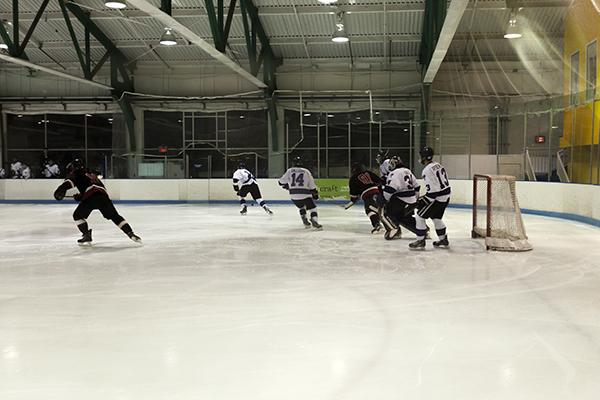 The NYU men's hockey team wiped the ice with their opponents this weekend, continuing their winning trend from last week by beating Montclair State University 7-2 and Marist 7-1.
After a slow first period, the action intensified in the following period when an early hooking call to freshman defenseman James Moeller resulted in an MSU power play goal. NYU would go on to take over the game, however, beginning with freshman forward John Kowalewski's tying effort at 8:20 of the second.
Freshman forward Keaton Baum scored to put NYU in front 2-1. Before the frame's end, MSU got handed a 10-minute misconduct, and by the time all was said and done, NYU had outshot them 19-5. Baum pointed to the team's resurgent intensity as a key factor in the period.
"We realized in between periods that we needed to really focus on using our speed as a team," Baum said. "When we came out in the second we were more fired up and ready to go."
The Violets continued scoring in the third, first with an unassisted effort from senior forward Denis O'Hara to push the Violets ahead 3-1. Kowalewski's second of the night also came unassisted at 8:53, and junior forward David Shaby got NYU's fifth of the night shortly after.
After MSU eked out a power play goal, sophomore forward Michael Conslato scored at 15:55, displaying an almost embarrassment of riches. Junior forward Peter Jorgensen finalized the score at 7-2 with 2:16 remaining. Jorgensen was thrilled with the team's effort and aggressiveness in the rink.
"We have a lot going for us right now and our mindset is just to bring it every night and you see that in the scores when we play a lower-seeded team like Montclair," Jorgensen said.
The Violets were back at it on Saturday night against Marist College, which turned into another exercise in superiority as NYU skated circles around the undersized Red Foxes. Beginning with a 2-0 first period thanks to freshmen forwards Gil Lipkin — who notched his first on the season — and Jack Orne. A couple of kills by Marist rounded out the first, but they were still outshot handily at 21-7.
In a wild second period, the Violets found the back of the net four more times, including the night's second for both Orne and Lipkin. There must have been something in the NYU freshmen's water, as the next two goals were both scored by first-years as well with Moeller and forward Matthew Welch each nodding one. Lipkin was elated to get his first two at such an exciting time in the season.
"It was nice to see a number of guys on the third and fourth lines picking up points in tonight's game," Lipkin said. "I think it really speaks to the depth of our team and shows that we can score no matter who's out on the ice."
Things got scrappy when the team's Canadian connection, junior defenseman Evan Ripley, got into it with a Marist player. NYU then had to head to the penalty kill late in the second when Moeller and Lipkin got tossed in the sin bin for roughing.
Unfortunately, sophomore goaltender Jack Nebe's bid for a shutout was ruined when Marist got a power play goal early on in the third, but NYU wouldn't be trifled with and scored a seventh, this one coming from sophomore forward Steven Esposito.
The Violets will gear up for their last regular season game back at the Sky Rink on Friday at 8:30 p.m. against the University of New Hampshire.
A version of this article appeared in the Feb. 8 print edition. Email Rachel Ruecker at [email protected].