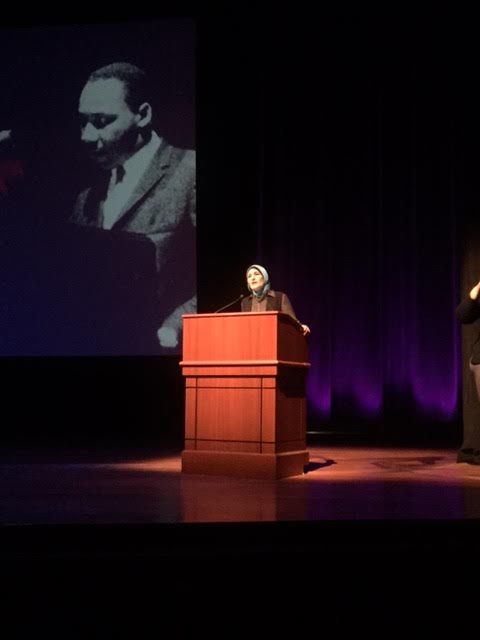 The Division of Student Affairs and the NYU MLK week 2016 committee members presented the highlight of this year's MLK week with the university-wide event under the theme "There Comes A Time." Skirball was packed on Thursday evening as attendees eagerly awaited to hear from featured guests Misty Copeland, TJ Holmes, Karyn Parsons and Linda Sarsour.
President Alexander Hamilton made his first university-wide address at the event, praising NYU for the efforts it has made with diversity initiatives. Hamilton also expressed his commitment to supporting the students of color on campus.
"NYU's student body now has no ethnic majority," Hamilton said.  
The event kicked off with an opening statement from the Assistant Vice President for Student Diversity and the chair of the MLK week committee, Monroe France. After thanking the audience for coming to the event, he reminded all why the event was so important in our social climate.
"Recently ethnicity and diversity issues have reemerged on college campuses across the country and including here in NYU," France said.
The evening also honored the recipient of the 2016 NYU MLK Humanitarian Award, Wagner alumna Jennifer Jones Austin. The annual award is presented to a humanitarian member of the NYU community who embodies the ideals and values promoted by Martin Luther King Jr. Austin's father was a civil rights activist and she said this award proved she is living the way her father desired.
"The MLK Humanitarian award gives me both assurance that I'm on the right path and inspiration to keep going," Austin said.
The first featured guest, Linda Sarsour, was introduced by CAS junior Sana Mayat. Sarsour spoke on issues such as mass incarceration, the unity of communities of color to work on the Black Lives Matter movement and even Flint Michigan. Sarsour is the Executive Director of the Arab American Association of New York and co-founder of the first Muslim online organizing platform, MPOWER Change. She commemorated Martin Luther King Jr. and urged students of color to be unafraid of making people uncomfortable.
"Let me tell you about the Martin Luther King that inspires me, not that white washed one that some of y'all learned about, not the Martin Luther King that has been conformed to fit narrow minded understanding," Sarsour said. "He was a black radical revolutionary."
Next, Steinhardt graduate student Victor Velasco introduced journalist T.J. Holmes, who discussed issues of diversity that plague the news industry. In particular, Holmes discussed the negative portrayal of Michael Brown via network-approved photos, among other representation of black people in the media. Holmes also encouraged students to understand that you are always representing something greater than yourself.
"Black Americans are currently fighting a battle with their image," Holmes said. "We are fighting a battle with what people think of us as African-Americans. I fear we are losing that war."
Lastly, Silver senior Loretta Owens introduced Karyn Parsons, most famously known as Hillary from "The Fresh Prince of Bel-Air" and Misty Copeland, the first African-American woman Principal dancer with American Ballet Theater. Parsons asked Copeland about her family life, career and diversity in the dance industry.
"I felt it in my bones that I didn't belong," Copeland said. "Learning about these black ballerinas that came before me that made me stand my ground and say we are apart of this and we have been apart of this."
Copeland ended the discussion by expressing her gratitude and pride in being able to inspire youth of color. The event served as the latest iteration of a series of discussions centering around diversity on campus, and will be a springboard for a slew of other events related to Black History Month in the coming weeks.
Email Imani Johnson at [email protected]