Wrestling Looks to Extend Hot Streak, Falters Late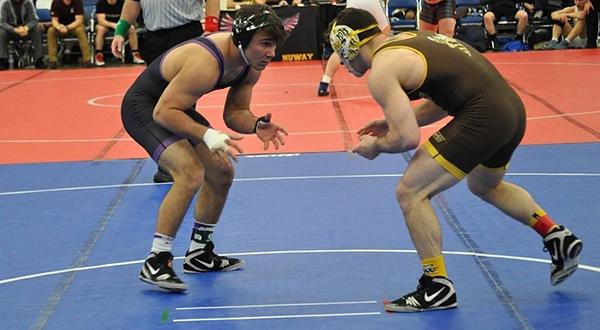 Looking to extend its three-match win streak, the NYU wrestling team's momentum was halted by the U.S. Merchant Marine Academy on Wednesday in Kings Point, NY.
The order of matchups — from lowest to highest weight — made for a compelling evening of competition as the two schools traded victories. After USMMA drew first blood, NYU junior Nathan Pike returned the favor at 133 pounds with a 4-1 decision and was followed by junior 141-pounder Anthony Calvano's victory, giving the Grapplers the early 6-3 edge.
But the score would shift back and forth three more times before the night was over. The USMMA immediately responded with consecutive victories by junior Nathan Twito at 149 pounds and freshman 157-pounder Erik Bashada over junior Grappler Nicholas Matthews and senior captain Dylan Lojac. Not to be outdone, NYU stormed back with three consecutive decision victories by freshman Manuel Ramirez (165), junior Adrian Herrera (174) and junior captain John Messinger (184). In a facade of control, the Grapplers maintained a six-point edge with two matches remaining.
The edge was lost, however, as soon as the USMMA dominated the 197 and 285-pound contests. USMMA senior 197-pound and freshman heavyweight (285) competitors Ricky Fisher and Brandon Joest both earned major decisions, worth four points instead of the regular 3-point decision, stealing the competition from the Grapplers 17-15.
Though defeated, NYU still had its share of noteworthy performances. Messinger's win at 184 pounds improved his record to an impressive 18-4, while Pike, November's Ithaca Invite 133-pound champion, earned his 21st victory of the year, the second most of any Grappler this season. He is currently on pace to break his single-season personal best of 25 wins.
Calvano showed growth, as his record now stands at 6-7. Ramirez also tallied another win at the meet, bringing his season up to a respectable 9-5, and. Now fully recovered from an earlier high ankle sprain, he wasn't fazed by wrestling a lanky opponent.
"I don't let that get to me and just wrestle my style," Ramirez said. "I'm always attacking and keeping my feet moving. Today, it worked out for me."
What works for Ramirez might not work for everyone, though. Wrestling is a sport that mixes individual and team components, so properly determining what a team must do collectively to improve can be a mystery. For the Grapplers, who have struggled to remain consistent, Ramirez pointed to more untimely hindrances, specifically injuries.
"At this point in the season, we need to focus on recovery, and also maintaining our conditioning in the practice room," Ramirez said. "If we accomplish both these factors, we should have a solid rest of the season because I know we have the potential."
The Violets, now 9-5 on the year, return to the mat in Centennial Conference action this Saturday in Hoboken, New Jersey against McDaniel College and Washington and Lee University.
Email Michael Thompson at [email protected].