Senior Leadership Proves Key for Men's Basketball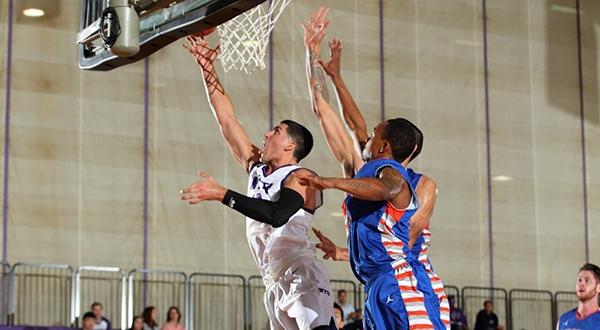 It took a little longer than anticipated, but the NYU men's basketball team, led by the duo of senior forward Evan Kupferberg and sophomore guard Ross Udine, survived a fierce overtime test from the Stevens Institute of Technology on Tuesday.
Kupferberg, a veteran leader of the Violets, was the team's centerpiece with 24 points and 16 rebounds. Udine was close behind, netting 20 points on 7 of 18 field goals.
Stevens came out strong, taking a 10-6 lead early on, forcing NYU coach Joe Nesci to call a timeout. Out of the break, it was all NYU, with the Violets outscoring Stevens 27-14 the rest of the way. Their lockdown defense was key in the first half, especially considering that Stevens' high-powered offense averages over 90 points per game. In the final five minutes, NYU suffocated the opposing offense, outscoring Stevens 9-2.
The second half began much like the first had ended. NYU held firm control over the Stevens offense, and shot well enough to take a 14 point lead with just over 17 minutes to play. Stevens then went on a run to make the game 47-42 with about 11 and a half minutes remaining. Just when it seemed like things were tightening up, NYU took control again, led by Kupferberg and senior guard Max Ralby. With six minutes left, they maintained what seemed like an insurmountable 13 point lead. But Stevens fought back again, with junior guards Evan Klimchack and Patrick Barron helping them go on a 15-2 run to finish the second half. A layup by senior forward Alex Lorenz tied the score with eight seconds remaining, sending the game to overtime.
But Steven's momentum amounted to little in an overtime completely dominated by the Violets. Kupeferberg started the scoring with a layup, followed by five straight points from Udine to finally give NYU a lead it would not relinquish. After crumbling slightly at the end of regulation, Udine was happy to see his team refocus and get the win in the end.
"In OT we really settled down and knew we had to come up with some big stops down the stretch," Udine said. "We were able to do that and that helped us secure the win."
The win was the Violets first in OT since Feb. 7, 2014. The Violets' success can be attributed to strong play on both sides of the ball. Senior center Costis Gontikas was key to the Violets' defensive rim protection, racking up five blocks. The team out-rebounded Stevens 58-46 and had 16 second-chance points. Though they were solid down low, scoring 46 points in the paint, their overall shooting performance left something to be desired. The Violets shot just under 70 percent from the free throw line and an abysmal 15 percent from three point range.
With this win the NYU men's basketball team is now 15-3. Their next game is against Carnegie Mellon in Pittsburgh this Friday, Feb. 7.
Email Tony Schwab at [email protected]