Robots Take Brooklyn in New Tandon Master's Program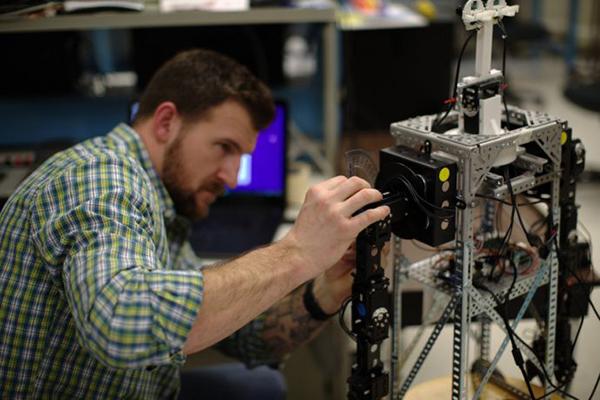 Tandon is now one of few American institutions to offer a master's program in Mechatronics and Robotics.
Most U.S. engineering schools only offer Mechatronics or Robotics courses within electrical engineering and computer science departments, while graduate programs in these fields are more common in countries including India, Germany, Canada and Australia.
Katepalli Raju Sreenivasan, the dean of Tandon, said some of these countries have specific industry segments with high demands for this types of training.
"Our program is unique in that it identifies the urgent need for a comprehensive and interdisciplinary training which balances interdisciplinary engineering theory, computing background, and hands-on real-world, project based learning through prototype development," Sreenivasan said.
Sreenivasan also said the creation of the program was prompted by positive student, employer and recruiter responses to previous Mechatronics coursework. This included experiences such as those in robot mechanics, smart materials and microelectromechanical systems.
"With infusion of several new faculty since 2006, in the general areas of mechatronics, robotics, etc., funded research and education activities organically grew in the last decade," Sreenivasan said. "Two-and-a-half years ago, during a strategic planning exercise for the department, it was decided that the time was ripe to create a full-fledged M.S. degree in Mechatronics and Robotics."
The disciplines will merge electrical, mechanical, computer science and computer engineering to allow students to utilize smart materials to compose, develop and create smart products.
"Mechatronics is a synergistic integration of mechanical engineering, control theory, computer science and electronics to manage complexity, uncertainty and communication in engineered systems," Sreenivasan said. "Robotics consists of synergistic integration of mechanical structures, mechanisms, electromechanical components — sensors and actuators, microcontrollers, programming and decision-making."
Professor Vikram Kapila, one of the faculty members within the developing program in the Tandon Department of Mechanical and Aerospace Engineering, said the program was crafted to fit the interests and needs of graduates and employers.
"Our faculty has been very intentional in the design and creation of courses and specializations in this new program to cater to growing interest from students and meet the workforce demands from industry for graduates with broad interdisciplinary training and practical experiences in mechatronics and robotics," Kapila said.
Maurizio Porfiri, a Mechanical and Aerospace Engineering professor, is looking forward to the implementation of the program as it will further improve the research setting of the university.
"This program will greatly strengthen our research environment, reinforcing student training, promoting exciting collaborations with industry, and bolstering collaborations across laboratories in the emerging and critical area of robotics," Porfiri said.
Tandon sophomore Mateusz Chrobak is impressed by the prospect of the program, and expects it to inspire other institutions to offer similar programs in the future.
"Education must adapt to changing times to reflect recent revolutionary developments," Chrobak said. "This program is a reflection of NYU's dynamic approach to education."
Students enrolled in the program will be required to take core classes in disciplines such as simulation tools, robot mechanics, mechatronics and entrepreneurship among others. They will also choose two courses within either assistive mechatronic and robotic technologies, mobile robotics or microrobotics.
"We are confident that real-world, project-based teaching and learning in mechatronics and robotics will engender contagious excitement among students, spark their intellectual curiosity, and engage their interest in creative and entrepreneurial explorations," Kapila said.
Email Greta Chevance at [email protected]