Blackstone LaunchPad Caters to NYU Entrepreneurs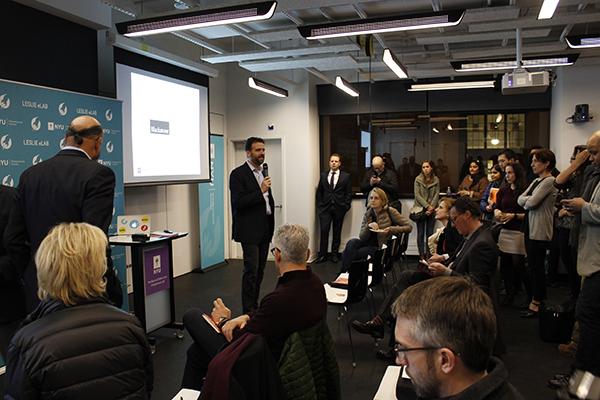 Tuesday night marked the kickoff for the new Blackstone LaunchPad at NYU. The program, which caters to student entrepreneurs seeking to expand their startup businesses, is available to any startup that includes at least one current member of the NYU community in their founding team. Blackstone Launchpad is funded by the Blackstone Charitable Foundation.
Participants of Blackstone LaunchPad will have access to one-on-one coaching, networking and community knowledge and sharing events. Additionally, the venture coaches working in the program share experience as founders, CEOs, investors and technology executives. Participants are also eligible to receive exclusive discounts on online courses.
Blackstone's Managing Director Brian Gavin explained the purpose of the organization.
"Launchpad finds entrepreneurs at the universities, whatever stage of development they are in, and gives them access to the materials they need," Gavin said. "You all have creativity and potential to create jobs for yourselves and others. Entrepreneurship is a big part of that. We want you to have access to resources to make those goals a reality."
Andy Moss, Director of Blackstone LaunchPad at NYU, is just one of the many people helping students explore entrepreneurship.
"We're here to help you develop skills around marshaling resources and figuring out how to execute plans for an entrepreneurial venture," Moss said. "We want to know where you are in the process of developing your business so that we are best equipped to help you."
Kurt Becker, the Vice President for Research and Entrepreneurship at the Tandon School of Engineering, commented on Blackstone's advantage over a traditional classroom setting.
"You can't study entrepreneurship by sitting in a classroom. You have to go out into the world and live it," Becker said. "The Blackstone Launchpad gives students the opportunity to express their interest in entrepreneurship, to connect with other students and to really understand what it means to be an entrepreneur."
Tandon School freshman Priyanandana Mudunuri said Launchpad presented new opportunities  for his own startup, APG, which takes food waste and converts it into biofuel and fertilizer.
"I really wanted to see what Blackstone was about, and I'm hoping to gain some professional connections with people here," Mudunuri said. "It seems like a really great networking tool for students.
Yale alumnus Kai Chen founded the app Fives, a platform designed similarly to Tinder where users search for an activity and choose a public location to meet up with people who want to join in. Chen said Blackstone Launchpad connects his team with students from other universities, which could help expand his business.
"We're about to launch our app," Chen said. "We've been spending more of our time on marketing at NYU and Columbia, so we're here tonight to meet people with more experience in this field to help our business grow."
Email Kati Garrity at [email protected].