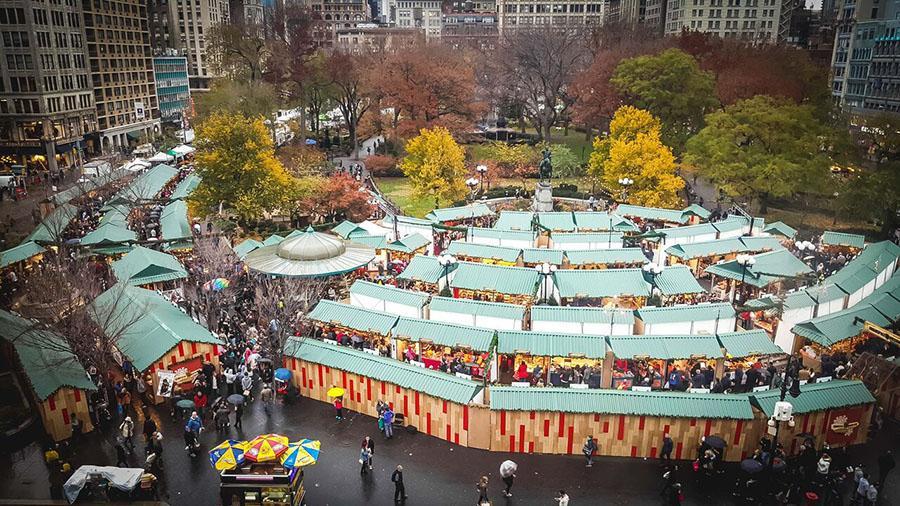 If you're stressed about buying holiday gifts this year, don't panic — just head to Union Square. With more than 150 stalls of artisanal foods and goods, you'll be able to find something for everyone on your list as well as snacks for you to enjoy on the spot. We've rounded up five spots in the market for holiday treats worth checking out this season.
Miss Tea ($$)
Miss Tea sources exotic black, green, white and oolong teas from all over the world. Their infusions include everything from pure tea leaves to flowery, fruity, spicy and scented tea. Grab a cup of hot red chai masala or soothing "many berry" green tea to wind down for the winter holidays, or buy a jar of their flavored tea leaves ($15) for your family members to enjoy.
Doughnuttery ($)
Since launching at the Chelsea Market three years ago, Doughnuttery has been making a name for itself with its bite-size, flavored, sugar-dipped donuts. Get a taste of their signature Cacaoboy, a blend of cacao nibs, chocolate cookies and mesquite. Or, try holiday flavors like Mistletoe: a mix of gingerbread, cranberry and sage and Mulled Apple Cider, which combines fall flavors like apples and cinnamon.  
Bar Suzette ($)
Also hailing from Chelsea Market, this creperie is a market veteran and conveniently situated right next to Doughnuttery. Serving both specialty sweet and savory crepes, they are known for both their Nutella banana and French onion crepes, which the chefs prepare on huge griddles right in front of hungry shoppers. Crepes may be their specialty, but the real star of the show is their Uptown truffle fries, dusted with a mixture of garlic, parmesan cheese, herbs and truffle oil.
Nunu Chocolates ($$)
This Brooklyn-based chocolaterie has a range of chocolate bars and truffles with fillings like salted caramel, raspberry and everything in between — all made with sustainably farmed cacao beans. Treat yourself to a delightful and creamy hot chocolate or give your loved ones an assorted box of chocolates ($8-$44). And because they know craft beer as well as their chocolates, be sure to try their beer box as well. You'll get freshly made craft beer poured right into your chocolate ganaches.
Breezy Hill Orchards ($)
Although their apple cider is top notch, this upstate orchard is about more than just apples. Their $7 gingerbread boys and girls are a good last-minute gift idea for friends and family if you're on the go. But don't miss out on their apple cider donuts, which are made fresh every day right on their farm. With a moist crumb and hints of cinnamon, the donuts are a perfect holiday treat.
Email Minnie Ongsricharoenporn at [email protected]