Public Safety faces ISIS threats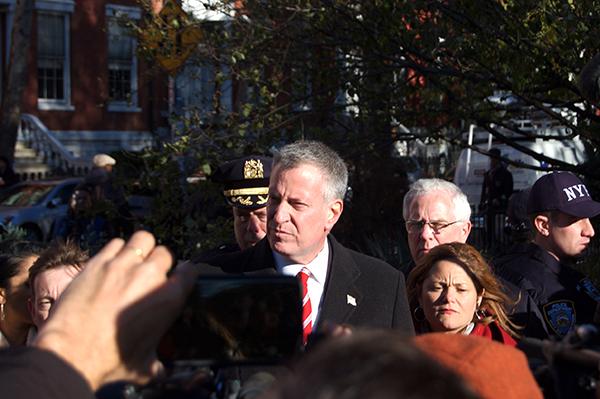 After recent threats from the Islamic State, NYU Public Safety, NYU Public Affairs and the New York Police Department are taking extra precautions to keep students and New York City residents safe. After the violent attacks in Paris, Beirut and Baghdad, the security of NYU students and faculty residing in the threatened New York area has become a top priority for the university.
In addition to an increased police presence around campus and near Times Square, Public Safety has been tracking NYPD updates from both the U.S. Department of Homeland Security and the Federal Bureau of Investigation.
Vice President of Public Safety Randy Stephan said in an email to the student body that even though the department has taken numerous steps in the past few days to ensure safety, students should be taking precautions as well.
"We encourage everyone in our community to be aware of your surroundings and to alert public safety or law enforcement if you see any suspicious activity," Stephan said. "Please monitor local news and follow any city or University advisories."
Public Safety has shifted its focus to students residing near Times Square after ISIS released its video threat on Wednesday. NYPD's presence has increased in Times Square and Herald Square, because these New York City landmarks have been referenced in the released video.
At a late-night news conference at Times Square on Wednesday, Mayor Bill de Blasio said that residents should not be alarmed by the threat.
"There is no credible and specific threat against New York City," De Blasio said. "We understand it is the goal of terrorists to intimidate and disrupt our democratic society. We will not submit to their wishes."
Students studying abroad at NYU Paris expressed concerns for students residing near Times Square, especially in the Affinia Hotel.
However, LS freshman Jordan Veitinger added that Public Safety is doing the best they can in staying accountable for those in NYU Paris. He said he feels students should remain calm during this time and not give into the fears that some radical groups are trying to perpetrate.
"I can't help but feel nervous for New York," Veitinger said. "But the terrifying attacks going on around the world — we have to live our lives, not our fears."
A version of this article appeared in the Nov. 23 print edition. Email Momachi Pabrai at [email protected].