NYU holds vigil for victims of terrorist attacks in Paris, Beirut, Baghdad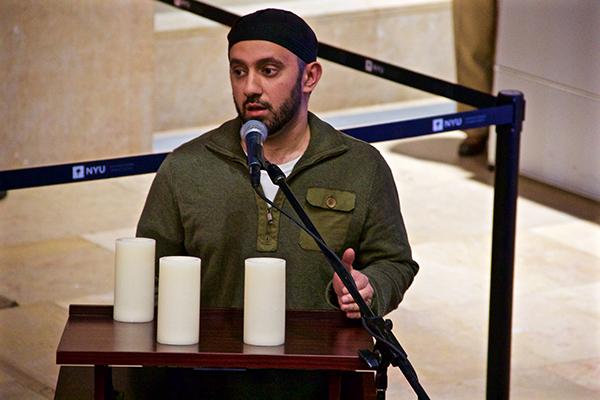 In commemoration of those who lost their lives in the recent terrorist attacks in Paris, Beirut and Baghdad, NYU students gathered in the Kimmel Center for University Life for a vigil on Tuesday night.
Students representing France, Lebanon and Iraq spoke on behalf of the victims in their respective home countries.
CAS junior Caterina Dacey Ariani grew up in Paris and said she was in disbelief when she heard about the attacks. Ariani said a city that represents safety and comfort for many is being stripped of the things that make it home.
"In Paris, cafes stage a space for intellectual dialogue," Ariani said. "Concert halls echo the city's devotion to arts and culture. And stadiums roar its passion and unity. To attack these places is to attack the fabric of the city."
Although still in shock, Ariani said she is grateful for the support the French people have received.
"Over the past few days, we have seen Paris stitch itself back up, and we have seen it do so with the help of the rest of the world," Ariani said.
After student speeches, Jewish, Christian, Muslim and Buddhist university chaplains led members of all faiths in prayer and concluded with a moment of silence and candle lighting.
Campus chaplain Rabbi Yehuda Sarna said he spoke with the Consulate General of France about the tragic events that shook Paris. In addition, Sarna directly addressed the audience and said France's younger generation was hit hardest by the catastrophe.
"It is exactly the people your age who are most affected by what happened in Paris," Sarna said. "This attack struck at what is the heart and soul of France — its young people. Its youthful culture. Its freedoms. Its freedoms of speech, of religion, of fun."
Sarna also said though many are grieving, it is important to take action in the areas where we can make a difference.
"We should do everything that we can to make sure that the Muslim community in France does not feel blamed for what occurred," Sarna said. "Of course we will have a greater intolerance of hate speech or speech that incites violence, but we will make sure that the Muslim community of France does not experience alienation."
Aya Cheaito, a student who is from Beirut, said she hopes that tragic events like these will not be ones that continue to unite everyone. Cheaito said when the bombings happened, she initially felt like she needed to carry on her with her life normally.
"I remember being very shaken, and when I went back home [that day] I remember talking to my friends and no one asked about what had happened," Cheaito said. "It just made me feel weird. But then once the media began to cover it, I felt a lot more support from people."
University chaplain Romall Smalls said while some people may be filled with fear and hatred, we must make uniting under a common goal our priority.
"We gather here tonight to stand in solidarity," Smalls said. "To stand in solidarity for peace, for justice, for fairness and for love."
Smalls added that the vigil should also draw attention to the atrocities taking place within our own communities as well as abroad.
"I urge you tonight to not only think about the violence that occurred in the distance, but to think about the violence that exists at home in our own communities," Smalls said. "Because when we think about this violence, when we pay particular attention, we also begin to understand our opportunity to make a difference."  
Email Lexi Faunce [email protected]