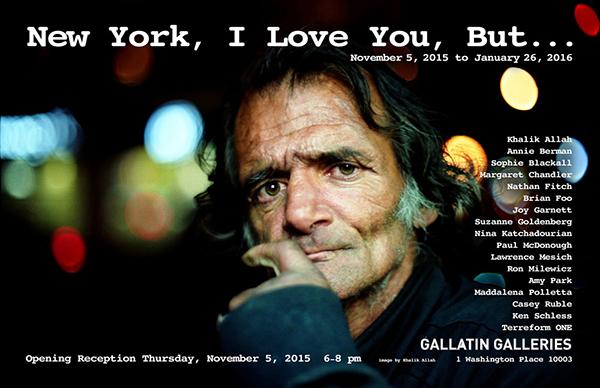 It's hard to form a definitive view of New York City, but the Gallatin-hosted gallery "New York, I Love You, But…"  expresses the nuance of affection for a city where the possibilities, lines and hipsters are seemingly endless. Curator and Gallatin faculty member Keith Miller brings together multimedia artists who express why love for New York is conditional.
Using "but" in the title expresses the complicated sentiments found in the pieces. Lawrence Mesich's skyscraper piece "Distributed Risk" dazzles viewers with its scale. The city is more than its skyline — it is the life happening beneath. Photographer Maddelena Poletta's work is grounded in the humans and scenery of the Lower East Side, while Paul McDonough's photography candidly captures subjects from around the city.
The artists also look at the life happening beneath the life on-ground: the city's infamous subway system. Sophie Blackwell's drawings capture the faces in the subway in playful color pencil sketches, which have previously been featured in the MTA. And while estranged commuters don't usually know much about each other, artist Brian Foo's video art gives us some data. Using sound dynamics in "Two Trains," he shows the changing household incomes as a train moves through the boroughs. Both of these artists use the subway as a vehicle for understanding the common experience of traveling with strangers.
But the art also begs to question: are we really strangers? Nathan Fitch's photographic piece, "Selfies with Strangers" uses selfies to capture people in his proximity. His photos take the square form popular on Instagram, alluding to the increasingly prominent virtual presence in New York. Video artist Annie Berman's work notices this unseen force as well. Her video art utilizes Google Maps and features a faceless voice asking people captured on the virtual streets for directions. It is disheartening to watch the people frozen on Maps ignore the disembodied voice.
The show displays the city's undeniable agency. New York has a personality, just like its millions of inhabitants. The title of the show itself addresses New York as a human, right down to photographer Joy Garnett's piece "Bobby, I love you, but I just can't deal with your garbage," which features debris found on the sidewalk. The show is not trying to dishearten those who love New York. Instead, it aims to intimate that positive and negative dimensions make a geographical location profoundly human.
"New York, I Love You, But…" is on view until Jan. 26 at the Gallatin Galleries in 1 Washington Place.
Email Georgina Hahn at [email protected]