Wrestling team starts season with strong lead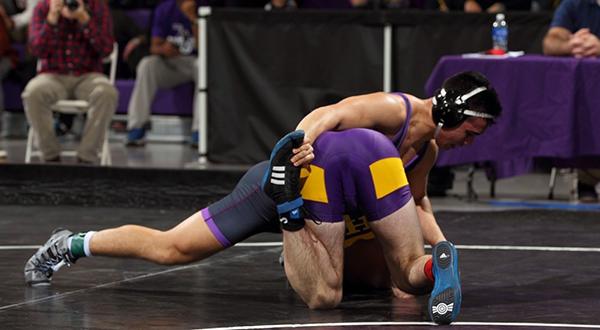 The men's wrestling team continued to tear through competition over the weekend, winning all three of their matches at the Metro vs. PA duals hosted by King's College this past Saturday.
The day began with a 32-9 win over Scranton. Senior captain Dylan Lojac pinned Zach D'Apolito after four and a half minutes. Junior Nathan Pike had a dominating performance, defeating Corey Forenza 18-0. Juniors John Messinger and William Gockel-Figge also won their matches in convincing fashion, 18-2 and 12-5 respectively.
Pike's strong outing comes on the heels of being awarded UAA Athlete of the Week and Centennial Conference Wrestler of the Week. Pike is now a perfect 8-0 in matches for the season.
Each wrestler performed consistently throughout their matches, going undefeated for the day. Lojac wrestled at 165 pounds, Pike wrestled at 133, Messinger wrestled at 174 and Gockel-Figge wrestled at 184. After placing fourth at the Ithaca Invitational last weekend, junior Wayne Yuan went 2-1, losing his third match in a close 8-7 decision against Scranton.
"Compared to last week, we definitely showed improvements in our conditioning," Yuan said. "I think we are on a great path to becoming a top team."
The team played their second match against King's College and were just as successful, winning 37-7. Pike defeated Matt Sparks 17-0. Sophomore Anthony Calvano, weighing in at 141, beat Josh Nagal 16-0. Sophomore P.J. Steinmetz, wrestling at 197, pinned Devin Steele after 1:41.
The day was capped off with a 30-11 win against Elizabethtown. Pike pinned Bryan Pflanz after 4:31. Messinger beat Quinn Rubble 23-6. Gockel-Figge defeated Rocco Hladney 10-4.
"We just went in with a mentality to dominate the competition this weekend and lived up to it," Pike said. "We still have some things to work on, but that's always going to be the case."
The hot start follows one of the best seasons in program history in 2014-15. Last year, the team was 21-3 overall, undefeated in the conference. They placed second in the NCAA East Regional Championships and 12th in the DIII National Championships.
This was the team's second major tournament of the season and its second success after opening the season by placing fourth of 12 teams at the Ithaca College Invitational. Next Sunday, the team travels to Ithaca again to take part in the New York State Collegiate Championships hosted by Cornell University.
A version of this article appeared in the Nov. 16 print edition. Email Tony Schwab at [email protected]