Thousands attend Tandon's cyber security awareness week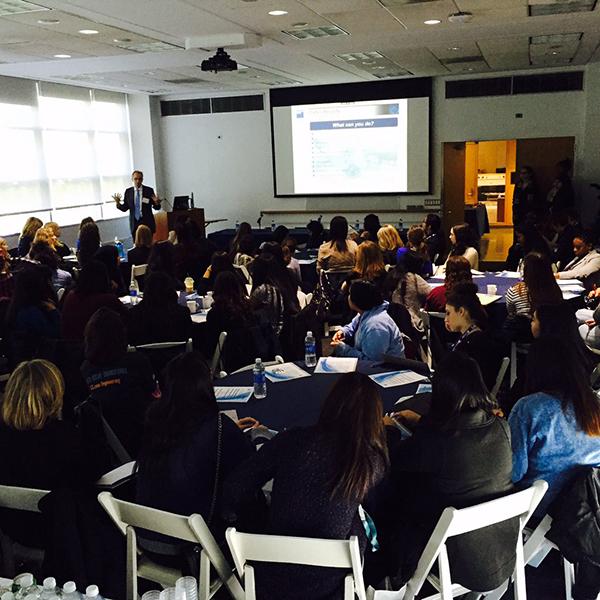 This weekend, NYU Tandon School of Engineering hosted the 13th annual Cyber Security Awareness Week this weekend, the largest student-run cyber security event in the nation.
This event attracted thousands from the pre-college through doctoral level. Finalists came from the United States, as well as the United Arab Emirates and competed in games such as Capture The Flag, Embedded Security Challenge, High School Digital Forensics, Policy Competition and Applied Research Competition.
This weekend alone, more than $450,000 was awarded in scholarships for high school finalists, as well as cash prizes for university students.
Organizers of Capture The Flag — a competition in which participants race to break into servers — spent 48 hours designing preliminary challenges, and gave the finalists 36 hours to showcase their offensive and defensive skills.
Those who competed in the Policy Competition had to address one of the most controversial debates in information security. They were poised with the question: How would you suggest the United States implement a national bug bounty program?
After being selected in the preliminary round from a pool of 800 teams, the finalists were critiqued by an esteemed pool of judges. The judges represented both academic and corporate realms of the United States, including companies like Facebook, Google, IBM and Trail of Bits.
The CSAW weekend was the place for finalists to test ideas, but also resurrect old ones. Orlando Arias, senior at University of Central Florida, was part of Team SSL that placed second in The Embedded Security Challenge.
They were tasked to break a hypothetical election system whereby they used a mechanism to encrypt online votes to ensure user privacy.
"The election system that we tested, has been theoretically proposed in the past, but has not been actualized," Arias said.
Although a lot of the scenarios created were hypothetical, finalists were still engaged throughout the competition. Seunkyoon Bong, junior at Poolesville High School participated in the High School Digital Forensics Competition. In this competition, finalists had to search for any piece of incriminating information through the use of a password protected cellphone and an SD card in a drone.
"It was an interesting competition because they made it seem like an actual investigation," said Bong. "We had to submit a warrant to get evidence and formal write ups were also required."
NYU Law student Brian Eschels was the student lead for the Policy Competition.
"The teams really took different takes on it, such that a very technical and non-technical person could write a paper without missing out on anything," Eschels said.
A version of this article appeared in the Nov. 16 print edition. Email Tegan Mosugo at [email protected].